Creamy Kimchi Grits with Shredded Brussel Sprouts, Shrimp, and Pork/Beer Sauce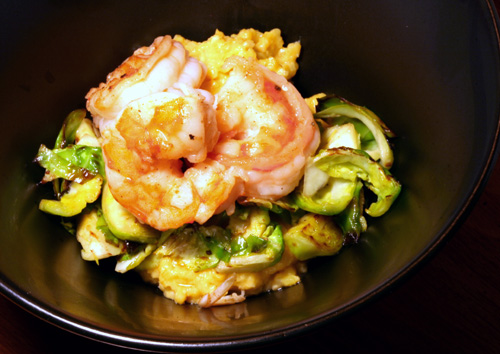 When Aki and Alex posted about making kimchi broth, I was inspired. It seemed like the perfect excuse to finally make some grits, which I've been meaning to do and yet not getting around to for a long time.
These grits are spicy, brilliantly flavored, creamy, meaty from the pork stock, and just an all-around success. I love them to bits, really. The shredded brussel sprouts are crispy, satisfying, and also meaty from bacon grease. And who could complain about shrimp with pork and kimchi? (Only my mother, and she only keeps kosher on the high holy days as is.)
I actually made this a few weeks ago, when Dave was sick with some sort of food poisoning or stomach bug that laid him low for two weeks. Despite his stomach cramps and general misery, he wanted to go back for second helpings. If that's not a great endorsement, I don't know what is.
Archives
2007: Raspberry Pomegranate Urfa-Biber Brownies
2006: Carrot Cake

Creamy Kimchi Grits
1/2 C coarse stone-ground cornmeal
1/2 C pork stock
1 1/2 C kimchi broth (puree 2 C kimchi with 1 C water, strain through fine mesh or cheesecloth)
1 1/2 tsp butter
1/2 C heavy cream
Boil the pork stock and 1/2 C kimchi broth. Add butter. When the butter melts, stir in the cornmeal and lower the heat. Simmer 10 min. Stir in heavy cream and simmer another 10 min. Stir in 1/2 C kimchi broth, simmer another 5-10 minutes, stir in another 1/2 C kimchi broth, simmer another 5-10 minutes until desired consistency is achieved.
Shredded Brussel Sprouts
Shred some brussel sprouts. Stir-fry in half safflower oil, half bacon grease, with salt and pepper.
Shrimp
Stir-fry some shrimp (shells removed, deveined) in safflower oil, salt and pepper. Add some pork stock when they are halfway done. Then remove the shrimp from the pan and leave the stock.
Pork/Beer Sauce
Add a bit of beer to the pork stock. Boil it down some. Finish with butter.