Roundup: Yes, Of Course You Can Pair Garlic With That!
That fellow up there? That's my partner, Dave. The one I'm always posting about. You may not have realized it yet, but this food blog is little more than a love poem to him.
He doesn't really have anything to do with this post, though. This is the roundup of all your fabulous entries to Yes, Of Course You Can Pair Garlic With That! – an exaltation of unusual garlic pairings.
The entries are posted in approximately the order in which they came in. If I missed anyone, it was unintentional and I apologize, and will remedy the problem as soon as I am alerted to it.
Onto the garlic!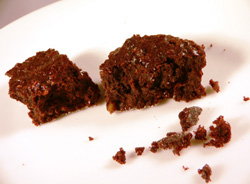 Knoblauch-Walnuss-Brownies (Garlic Walnut Brownies)
Hedonistin from Low Budget Cooking
Braving a dislike of nuts to create these brownies, Hedonistin determined in the end that they were pretty good, even despite the nuts. I really enjoyed the description of the progress of flavors and impressions that developed with each bite.




Roasted Garlic and Goat Stuffed Apples with Raisins, Honey and Cashews
Lyra Spang from Rice and Beans in DC
I can't even begin to count the pairings Lyra put together here – garlic and honey, garlic and cashews, garlic and baked apples, and more!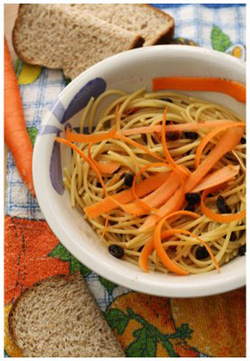 Spaghetti with Maple-Glazed Carrots, Garlic & Raisins
Graeme Keeton from Blood Sugar
Garlic and… maple!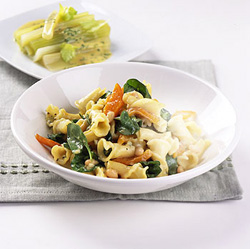 Clementine's Garlic-Bean Pasta
Sarah from What Smells So Good?
Garlic and clementines is definitely a new pairing for me. Sarah describes the multiple uses she had for garlic in this dish best herself: "This is a satisfying vegan main course that takes full advantage of the flavour possibilities of garlic, here cooked until soft for sweetness and body along with sweet oranges, sautéed until golden for depth, and added raw with crushed red pepper flakes for brightness."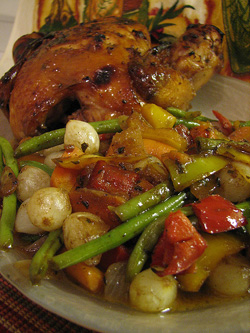 Crockpot Garlic Brown Sugar Chicken
Lisa from La Mia Cucina
Garlic is so lusciously sweet, that even though I've never tried the combination myself, I'm not surprised it paired so well with brown sugar. Gorgeous work!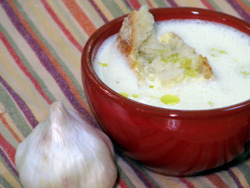 Ajo Blanco (Spanish Garlic Soup)
Ramona from The Houndstooth Gourmet
Ramona points out that "the Spanish have been pairing almonds (which have the same saturated fat amount as hazelnuts) with garlic since the days of the Moors, and the pairing dates back as far as Roman Hispania. [Ajo Blanco] is the original gazpacho and it's primary ingredients are almonds and garlic."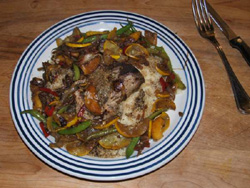 Pork Chop, Peaches and Garlic on a Bed of Couscous
Elizabeth from blog from OUR kitchen
Elizabeth wrote that the only change she would make next time would be to add more garlic!




Garlic BBQ Sauce
Mrs. W from Mrs. W's Kitchen
This is the most astounding pairing I have ever encountered – garlic and Dr. Pepper. Mrs. W, my hat's off to you.




Chocolate-Dipped Candied Garlic
Linda from make life sweeter!
This one I definitely have to try!




Chicken Legs with Hazelnut Garlic Paprika Crust
Lizet Kruyff from Mededelingen van land en tuinbouw
As a good Hungarian, I appreciate the addition of paprika to this mouthwatering chicken.




Chocolate-Covered Garlic and Caramel Surprise Chocolate Chip Cookies
Jessica from Su Good Sweets
Jessica, you're local, won't you spare some chocolate garlic fishes for me?




Apple and Plum Tarts Glazed with Garlic Jelly and Tuna, Hazelnut and Garlic Pasta
Julia from starkeymonster
The garlic jelly fruit tart looks amazing! This is another one that I will certainly have to try myself.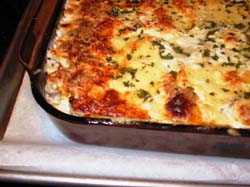 Chicken Hazelnut Lasagna with Roasted Garlic Bechamel
Gabi from The Feast Within
This is the sort of recipe I was dreaming of when I started this event. Thank you, Gabi, for making my dreams come true.