In Defense of Picky Eaters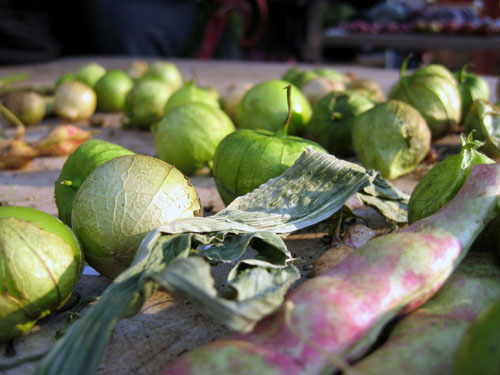 Barbara recently posted about how picky people are a huge pet peeve of hers. She was inspired to write about this by Amy, who wrote about how picky eaters make her a bit crazy. There was even a recent Washington Post article which implied that picky eaters are rare and suffer from some sort of disorder or childhood trauma. It always astonishes me that some people are so intolerant of the food preferences of others.
Barbara did explain in a later comment that it is people's behavior with regard to their food preferences, and not the fact that they have those preferences in the first place, which actually bothers her. Her further explanation makes her view even clearer. That is a stance I entirely understand, because poor manners are unpleasant to be around no matter what their cause may be. But I do not understand feeling put out simply because the people around you like eating some foods and not others.
This is a conversation that comes up often in my household. My partner, Dave, asked at least one of our guests at our housewarming party whether they had any "eating disorders." By this, he mostly meant that he wanted to know if they were vegetarian or kept kosher. I was a bit concerned, seeing as how we did have one guest who not only kept kosher but also had a history of bulimia. But even she was relaxed, and just laughed at his choice of words when she overheard him.
Mind, he is perfectly happy to keep track of people's culinary likes and dislikes and cater to them. He was thinking of programming a database to help us to do so when we host large meals. He himself is probably as picky as I am, in different ways – he won't eat cheese at all, or eggplant, or most pasta (Japanese noodles are the exception), or potatoes in most forms, or most salad, or olives, or raw tomatoes, and I have had to work at introducing him to more and more vegetables that he can enjoy.
What upsets Dave are not picky eaters, but people who have dietary restrictions with no basis that he happens to consider understandable, and which get in the way of social interaction via shared meals. He considers sharing a meal to be extremely important in developing friendships and bonds with other people. Feeding people is what he does. And when something gets in the way of that for reasons that he can't understand (say, religion), he feels like his offer of friendship has been in some way rejected, which bothers him quite a lot.
But mere pickiness based on tastes and preferences? He sees those the way I see all sorts of dietary restrictions – as a puzzle we can enjoy solving in order to create the best possible dining experience for our guests.
As you can see, this is something that we end up discussing quite a lot, even as he spoils me by dissecting the fat off of bacon or picking all the mushrooms out of my portion of the food. He is very indulgent, my love is.
I once accused him of only keeping me around because I offer him a challenge in feeding me.
"I love you for other reasons, too!" was his reply.
See, I may be a creative cook and an adventurous eater, but I often describe myself as picky. I can't stand the taste of peanuts, or oranges, or avocadoes, or pineapples, or pickles (of the used-to-be-cucumbers sort), or mayo, or anything that tastes like licorice. I don't eat mushrooms, eggplant, or nuts because I find the texture to be unbearable – though I'll eat things made with mushrooms that are big enough to eat around, and ground nuts in things (or pecan pie, where the nuts change texture dramatically) are fine with me.
The smell of canned tuna fish truly makes me feel physically nauseous. I was stuck on a boat out on the wine-dark sea last summer, with the captain smoking at the bow and everyone else eating canned tuna fish at the stern. I spent an hour or so out in the center of the boat, just below the mast, getting a fine sunburn while trying to breathe.
I tend to avoid olives, uncooked tomatoes, salads, and strong cheeses, because I usually don't like them, but I will try them anyway on the off chance that my tastes have changed or that the one being offered is an exception. I used to say I didn't like pork except in Chinese food, but by being willing to try it when people cooked it for me, I discovered that I can actually enjoy it in just about any formation except for pork chops. And I recently learned that I enjoy a salad of mixed baby greens with roasted beets, mild chevre, olive oil, and balsamic vinegar.
I try to avoid acting like a jerk or a child when it comes to these things. If someone asks for my food preferences, I'll let them know. I personally want to know my guests' food preferences, so that I can be sure to make things they are more likely to enjoy. I can order from the menu almost everywhere I go, and if I order off-menu, it's only to the extent of asking for no nuts or no mushrooms on top of some dish. I can usually just pick around the stuff I don't like.
I don't sit around going "Ewwwwww" about things. I did that as a child, but I grew out of that phase eventually. I just avoid the things I don't like and eat the things which I enjoy.
Thing is, my preferences are my preferences, and I'm allowed to have them, and I don't really understand why I should feel bad over having them. I have a fairly wide palate, and I'm very adventurous and into trying new things. If you have been keeping up with this blog, that should come as no surprise to you. But there are things I have tried and not liked and feel no desire to eat again, and I just don't see anything wrong with that.