Fig, Sweet Potato, and Wild Rice Stuffing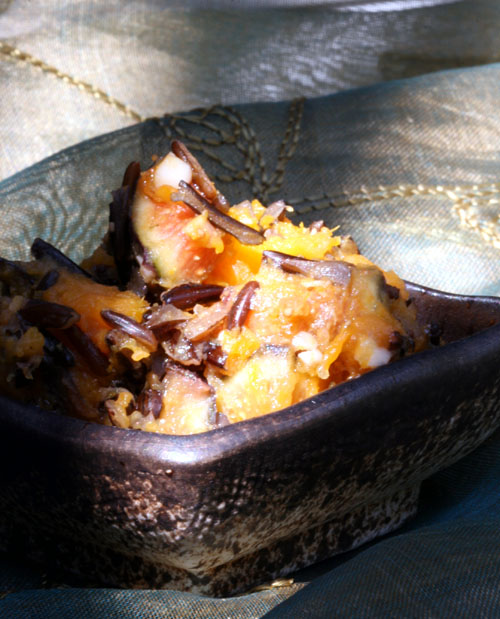 I can't really take any credit for this recipe, aside from the eating. It was almost completely the brainchild of our friend Bonnie, who had all the ideas except adding in the crispy garlic, which Dave came up with. I'm just playing photographer and stenographer, this time.
(Incidentally, Bonnie makes and sells the cutest, awesomest sock monkeys. I wish she had a website I could link to in saying this. If you are craving sock monkeys, you should let me know so I can send you her way.)
Stuffing is generally seen as a Thanksgiving tradition, and I know very few people who bother with it at any other time of year, myself included. What a damn shame. Now is the time for stuffing, it turns out, while the markets are full of fresh figs and local sweet potatoes. The figs add so much flavor to this stuffing, added in raw at the very end. The sweet potatoes add richness and pull up the figs' sweetness to a level I prefer, and the texture of the wild rice is the perfect foil for the rest.
I must confess that stuffing is a misnomer, as we never stuffed this stuffing into anything but our bellies. What of it? The best Thanksgiving stuffings are usually those cooked outside of the bird.
Incidentally, this post is yet another entry for La Festa Al Fresco 2007.

Fig, Sweet Potato, and Wild Rice Stuffing
3 sweet potatoes
1/2 lb wild rice
1 pint fresh black mission figs, chopped into 1/2″ chunks
5 cloves garlic, minced
2 tbsp butter
Salt and freshly ground black pepper to taste
Rinse the sweet potatoes and poke holes in them with a fork, then wrap them each separately in aluminum foil and bake at 375°F until tender (45-60 minutes). Once they're ready, unwrap them and let them cool just enough to be able to peel them and chop them into 1/2″ chunks.
Boil plenty of salted water, add in the wild rice, and gently boil, covered, until tender (45-60
minutes). Drain and set aside.
Heat the butter in a pan and cook the garlic in it over medium heat, stirring often, until crispy.
stir all ingredients together and add salt and freshly ground black pepper to taste.
Serve with roast chicken and gravy for best effect.