Dave's Autumn Rice
Originally I was not going to bother posting this recipe, because it is such a simple thing, and not all that much to look it. Never mind that it is delicious and addictive and goes unbelievably well with our favorite skirt steak for a quick and easy autumn dinner. Never mind that it is an orchestra of flavor, full of tomatoes, onions, saffron, cinnamon, sultanas, mustard oil, port, and more. But then Dave pointed out something very important.
"Anything I have to make again twice," he said, "is worth posting about."
Twice again within a week of the first time he made it, that is. At my request both times. He's right, it's probably best to save the recipe at this point.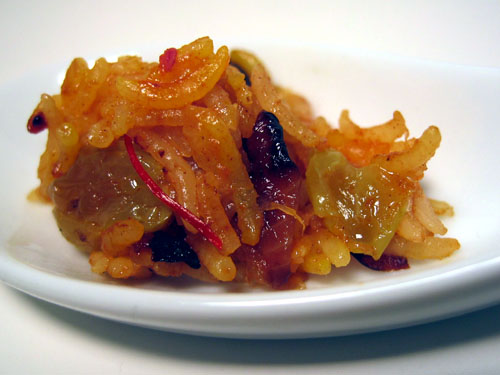 This recipe calls for mustard oil, which you can find at most Indian groceries or high-end gourmet stores. I get mine at Kalustyan's. It is often labeled with "For use in ethnic cooking" and with "For external use only," both statements on the same jar. The reason for this is that mustard oil is high in erucic acid, which is believed to be carcinogenic. However, mustard oil imported from Australia has a much lower concentration of erucic acid, and is safe for use in cooking. This is what we use.
Mustard oil is a thrilling ingredient to play with, so if you can get your hands on some of the Australian stuff, give it a try. It has a pungent aroma and subtle flavor that tends to help bring dissonant tastes together into a coherent dish. It is a wonderful tool to have in your arsenal.

Dave's Autumn Rice
1 C basmati rice
2 1/2 C chicken stock
1/8 C tawny port
3/4 tsp cinnamon
1 (big!) pinch saffron threads
1 tsp honey
1 tbsp tomato paste
salt and pepper to taste
1/2 C sultanas
1 onion, chopped and browned separately
1/8 tsp nutmeg
1 1/2 tsp mustard oil
3/4″ cube(ish) chunk ginger, grated
Put everything except the onion into your rice cooker and mix together, then set it to cook. When the rice is almost ready, stir in the onions.
That's it.
If you want to make it somewhat richer, you can add 1/2 C water after the rice is entirely done, then spread it in a 9″x9″ or so baking pan and bake at 350º for 15 minutes.