Hungarian Food in Hungary
I flew into Budapest, then traveled with Dave to Pécs, Szeged, and Debrecen. In Debrecen, we met up with my grandmother and mother, who drove us up to the pair of small villages near the Ukrainian border where my grandmother grew up. She was born in Tarpa, and when she returned from Auschwitz and got married, she lived just across the Tisza river in Kisar. We met my father and brothers there, and a host of very kind people who knew my grandmother from when she was a child and a young woman.
I have too many food-related photos from this trip, so I plan to take the ones from the Tarpa/Kisar portion of the journey and put them up in a separate post. For now, though, the foodie photos from the rest of the trip.
The photo above is of the single best cake I tasted in Hungary, at the Zsolnay cafe in the Radisson hotel in Budapest. It was mostly made up of layers of marzipan and chocolate mousse, with perhaps a small amount of very thin layers of chocolate sponge cake in between.

On the whole, I did not much like the Hungarian cakes served at the confectionaries. They seemed like good ideas, but poorly implemented and far too dry. The ice cream creations were much better. Below are the dishes Dave and I ordered at Virág in Pécs. I had chocolate and vanilla ice cream, chestnut puree, cherries, and cherry liquor.
He had pear ice cream, some other sort of ice cream, more pears, more liquor. Everywhere we went, we found these extravagant things. And every time I ordered one, I had them add chestnut puree to it. My parents love to eat chestnut puree straight from the can, with sour cream and sometimes jam, but I never realized that it was a Hungarian thing until this trip. I loved the abundance of chestnut puree on every dessert menu.
At a festival winding through the Buda castles, we ate this traditional cylindrical Hungarian faire food, which is called kürtőskalács (pronounced kewr-teu-ska-lach).
The dough is wrapped around a roller, coated in some sort of egg yolk, honey, sugar mix, and roasted.
Once it is cooked through, it is removed from the roller and coated in the additional topping of your choice. The choices usually seemed to include cinnamon, vanilla, walnut, and coconut.
I found the cinnamon to be particularly tasty.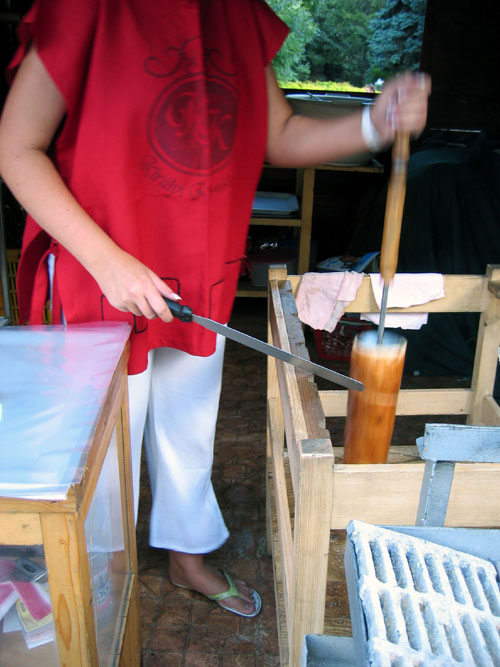 Fresh peppers are called paprika, too. As are pickled ones. I really liked the squatness of these, which reminded me somehow of pattypan squash.
We found many sausage purveyors throughout the country, and at every one I asked in my pidgin Hungarian, "cserkészkolbász?" My mother and grandmother go to a Hungarian butcher on 81st St. and 2nd Ave. in Manhattan to buy their Hungarian sausage, and the cserkészkolbász (pronounced chair-case-kohl-bahs) is my favorite. It is very thin, and not too spicy, and very flavorful. My grandmother tells me that cserkész is a group sort of like the boy scouts, so really the kolbász I adore is boy scout sausage.
It turned out to be very difficult to find in Hungary. I found something similar (in texture if not in flavor) at the Pick market in Szeged, which translated to "snack sausage". It was milder, but also very good.
When Dave, my brother Jordan, and I finally met up with Zsofi, she took us to the central market in Budapest, where we finally found some kiscserkészkolbász (a smaller variant of precisely what I had been looking for during the prior week and a half). I cannot express my appreciation enough.
Zsofi, whose beautiful blog is written sometimes in English and sometimes in Hungarian, really made the last few days of our trip. She recommended some fabulous restaurants we never would have found on our own, and they stood out among the unfortunately salty food we had been eating throughout the rest of the country.
I brought her a few food magazines in English, and she gave me several in Hungarian. It was such a delight to finally meet another food blogger, who understood why I had to stop and take photos throughout the market. I can't wait for her to come to New York so I can show her my favorite foodie spots in my city.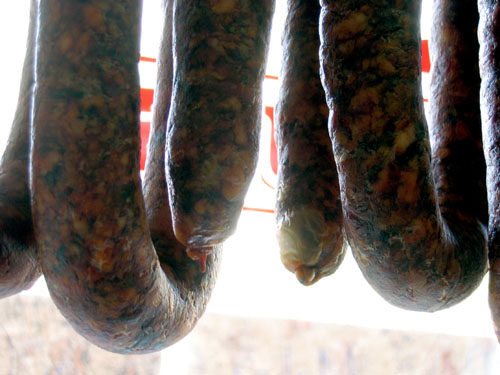 When Dave and I were in Debrecen and had met up with part of my family at last, we all went out for dinner at a place recommended by one of my grandmother's old friends. The waiter turned out to have lived in NYC, and his mother was still living there. He and my mother got to chatting. As I don't speak Hungarian, I couldn't really follow their conversation. I figured they were discussing everyone's favorite Hungarian butcher in NYC, the one at 81st and 2nd, because I caught the word hentes (pronounced hentesh), which is how my family has always referred to the place.
When they were done chatting, I asked my mother if that was what they had been speaking about. No, she said. They had been discussing 9/11, and how worried he had been about his mother when it happened. I was surprised, and asked her why then had I heard them saying hentes.
"Hentes means butcher," she explained.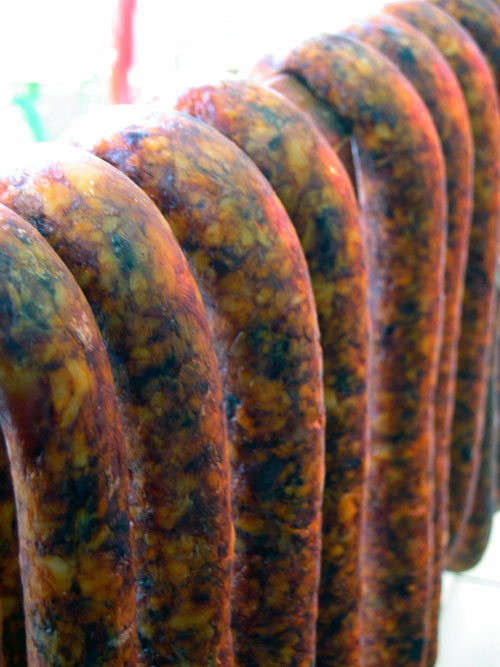 These next few photos were taken at the food market in Debrecen, the second largest city in Hungary. It is in the east, in the middle of the Great Plain. The food served in the Debrecen restaurants was far closer to what I had expected than the food served at the south end of the country. Finally, stuffed cabbage was on the menu, though it was not made the way my grandmother makes it.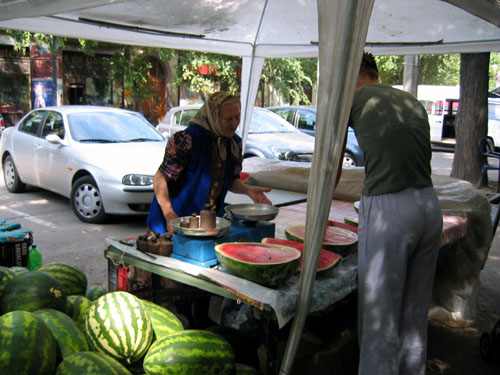 We saw weights such as these for sale at a flea market in Budapest. I was awfully tempted to purchase a set, but I have no scale at home, nor reason to use them.
The last photos I have for you here were taken at a county fair in a small village in the northeast, not too far from the villages where my grandmother grew up and the Ukrainian border.
I spent the entire trip trying to think of an excuse to buy some of these fabulous hanging pots and pans, and perhaps a way to carry them home. I failed. Perhaps I should have bought one to use for a Hungarian picnic in Prospect Park?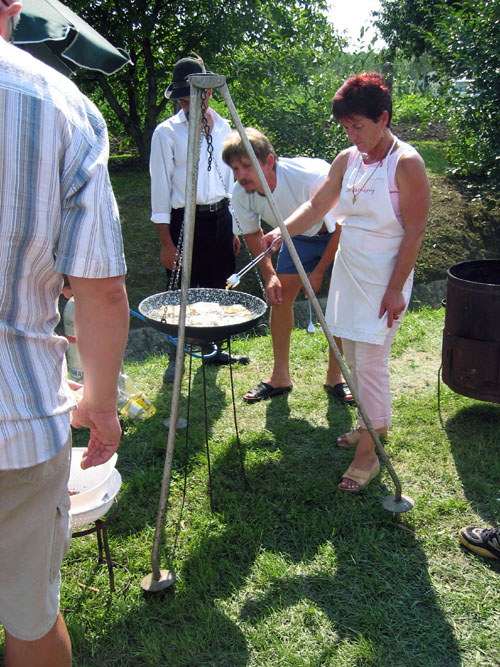 The woman in the pink shirt in the top left corner of the next photo, mostly obscured by the woman in front of her, is my grandmother. She makes marvelous cabbage strudel, which is sweeter and more delicious than you could possibly expect. She was watching a group of women at the county fair making cabbage strudel to cook and sell there.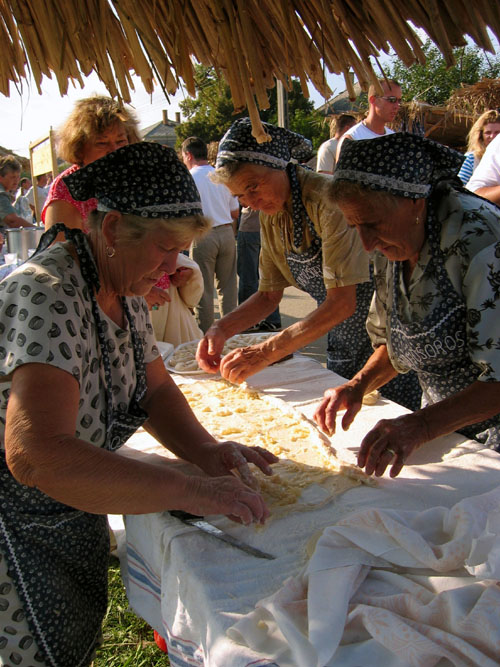 The best thing about their way of doing it was how they started off rolling the dough. They stretched it out very thin on a towel, and spread the cabbage mixture loosely across it. Once that was properly set up, the women would gently lift the towel on both sides, and the dough would roll up inwards of its own accord, swiftly and smoothly, creating these perfectly delicate tubes of strudel. They then finished the job with hand and knife.
I was too full at that point to actually eat their cabbage strudel. This may well remain one of my great regrets in life.