Husk Tomatoes, a/k/a Ground Cherries (Still in Hungary)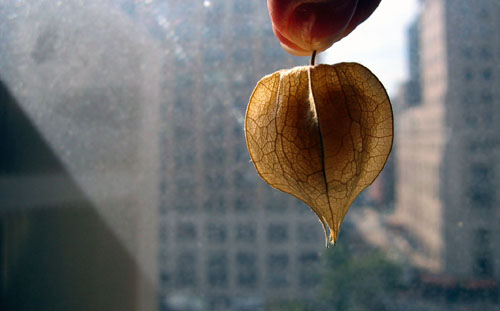 These photos were taken back home, before I left for Hungary. I picked up these cherry husk tomatoes, which look quite a lot like tomatillos to me, at the farmer's market in Brooklyn Heights. They smell like a mango and taste like a firm persimmon, almost. Delicious! I threw a few into a sort of Dutch apple husk tomato pancake the morning before we left, but mostly I preferred them straight from the husk to my mouth.
I am still in Hungary now, about halfway through my trip. We're doing great here. Dave and I are in Debrecen today, and we will be heading up to Tarpa (the village where my grandmother grew up) to meet up with my family tomorrow morning. The architecture here is just stunning, as is all the sausage. We even stopped by the Pick salami and paprika museum in Szeged. (Did you know that Pick was started by a Jewish man? What a strange origin for a porcine treat.)
I have been less than impressed by the restaurant food, though. It simply has not been as good as the Hungarian food my grandmother and mother have made for me all my life. But as we travel north, the menu options have come more and more to resemble my grandmother's cooking. It is a wonderful voyage.
I have been taking many photos, which I will post, along with the stories, when I return. And more than anything, I have been absolutely inspired to cook more Hungarian food when I get home – fusion dishes, yes, and the dishes my grandmother makes, and more. Being disappointed by restaurant food in a cuisine that I love makes me want very badly to go home and try to get it right.
On a completely unrelated note, here is an article about Dave, who left his job to come live with me in NYC. He is my co-counsel on almost everything I cook. He is my traveling companion, my partner, and he pats the hotel bed in the morning until I remind him that we left the kitty at home. And he always listens respectfully to my grandmother when she tries to give him cooking advice.