Roundup of Food Blog Posts I've Enjoyed #12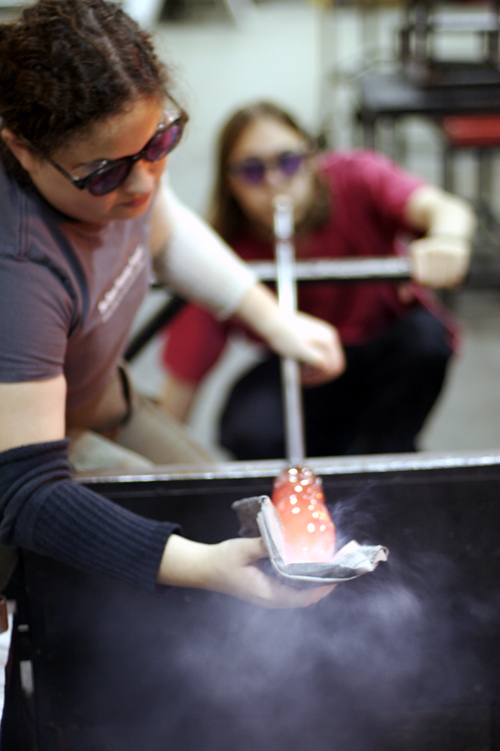 Dave and I are still into glassblowing, all right! That's a photo of us in the studio, working a piece. I'm the gaffer in the photo, making what turned out to be a pretty glorious red mug, and Dave is blowing air into the piece as I shape it with wet newspaper.
Those silly purple glasses are actually didymium, meant to protect our eyes and allow us to see what we're doing through the glare of the heat and flame.
The photography is by my dear friend, the brilliant and talented artist Scott Lefton.
To bring things back to food, here are a few food blog posts that I loved and highly recommend to you.
Mercedes from Desert Candy made a few ice creams that I can't get out of my head: Olive Oil Ice Cream with Balsamic Chocolate Sauce and Sour Cream Brown Sugar Ice Cream.
And speaking of ice cream, Bruno made Vietnamese Coffee Gelato w/ Toblerone Chunks and Sesame Seed Tuile Mini Cones. I love the presentation and the flavor combination! The little cones look so very gobblable here.
Now, we all know how amazing David Lebovitz is. But right now, I'm particularly craving his Apricot Soufflés.
Our Tartelette has tempted me with her Ricotta Cake With Meyer Lemon Curd, a delicately beautiful concoction that looks like it packs a fully whammy of flavor. And given that Dave's on a bit of a quince kick, I'm just dying to make her gorgeous Quince Tartlets With Olive Oil and Cardamom Crust, too.
What better way to celebrate New Year's Eve than to follow up your late latkes with some homemade Babka, courtesy of Smitten Kitchen? And when you're sick of holiday foods, switch things up a bit with her Arroz con Pollo.
Now, there are just cool. Over at VeganYumYum, I came across the most astounding Knit Night Cupcakes, decorated with perfect balls of yarn, needles, scarves, and knitting projects in progress, all made of sugar. Seriously, you have got to go over there and admire those sugar art skills. They are beyond belief.
Next, stop by Cook and Eat to try out the Baked Plum Pudding – something like a tart, something like a cake, but delicious and lovely no matter what you choose to call it.
I still have some chestnut flour in my fridge, and I have my eye on the Castagnaccio over at Cook (almost) Anything at Least Once as a wonderful way to use it up.
From one of my new favorite blogs, Never Bashful with Butter, come these Apricot Cream Cheese Butter Cookies, which look tiny, tasty, and altogether scrumptious.
Kate from Aapplemint had a brilliant idea for how to make madeleines if you don't have a madeleine pan – you can make Chocolate Almond Madeleines in spoons instead!
This post on making ikura from Blue Lotus is basically completely useless to those of us in the States, where it is basically impossible to find raw salmon roe sacs. Still, I found it completely fascinating to read, and hope to someday have the opportunity to put it to use.
The delicate, translucent, beautiful panes of herbs and phyllo I found over at Lucy's Kitchen Notebook, which she calls Herb Bouquet Breadsticks, completely capture and enrapture my imagination.
A favorite food blog post round-up just wouldn't be complete without a few recipes from Rasa Malaysia. This time, I'd like to draw your attention to her Ma Po Tofu, a rendition of that numbingly spicy classic, and her Szechuan Wok-fried Chicken, which looks like a perfect dead simple yet intensely flavorful weekday dinner.
Heidi from 101 Cookbooks intrigued me with her description of her moist, quiche-like Sun-dried Tomato Cottage Cheese Muffin Recipe, which she suggests thinking of as "a souffle's heartier, denser, more portable cousin".
Who could resist this Fresh Fig Frangipane Tart I found over at Apple & Spice? Not me!
Over at Tigers & Strawberries, Barbara offers a Meditation on Heads-On Shrimp, wherein she describes how to make a complex and satisfying shrimp stock (and enjoys sucking out shrimp heads on the side). She also made a fantastic Kimchi Noodle Soup, which I think saved me from my last cold earlier this fall. After trying it, I am immensely grateful to her for sharing the idea, and it has joined my small but mighty permanent Sick Food roster, along with Mom's chicken soup.
Did you know that pumpkin and chocolate work well together? I sure didn't, until I found these Double Chocolate Pumpkin Cupcakes at Pinch My Salt.
Angela at A Spoonful of Sugar tells us that Swedish Saffron Bread is a traditional celebratory bread for Swedish Christmas, or rather, St. Lucia's Day. I'm not familiar with the religious aspects of the holiday, but I still want to tear into that bread!
Oh what a decadent treat it must be, the French Toast Bread Pudding from Matt Bites.
I am always inspired by Alanna at A Veggie Venture, and in particular I can't seem to get the thought of her Acorn Squash with Mustard & Honey out of my mind.
Aren't you completely intoxicated by the thought of these Artichoke Crowns Stuffed with Saffron-Scented Crab I found over at Leite's Culinaria? I know I am.
Brilynn posted a recipe for Pomegranate Rice that seriously inspired me to go out and buy a copy of Marcus Samuelsson's The Soul of a New Cuisine, it looked so good. I've made a few of his other recipes so far, and I have enjoyed them all.
Gattina's Green Ravioli with Purple Cabbage & Sage are so vivid, they are an absolute treat just to look at in her splendid photos. If they taste only half so good as they look, I would be satisfied.