EMJC's 2007 Latke Competition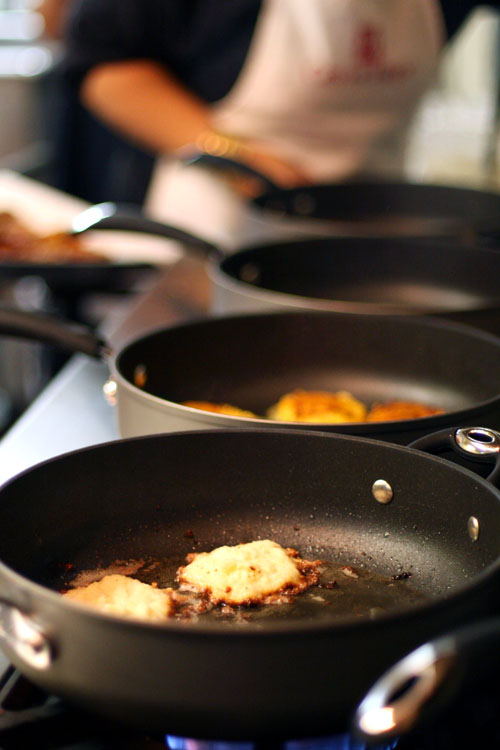 This post may seem a bit late, but it's timely, really. Channukah came so early this year, you might as well make latkes for Christmas! Or New Year's Eve. Or you can make latkes to celebrate my birthday from afar on January 2nd.
All those pans shown above were in a row during the East Midwood Jewish Center's 2007 Latke Bake-off, as all the competitors worked together in the kitchen to make their latkes. (Which were fried. No baking involved. The title makes no sense, but let us just say that it was justified by the sheer deliciousness of the event.) Some people donated their recipes, while others (including the winner, to my dismay) kept their spice mixes secret.
We all had a wonderful time cooking together, and last I heard, the Park Slope Jewish Center has challenged us to a latke competition next year. (I have mixed loyalties: I grew up at EMJC, but now live in Park Slope.)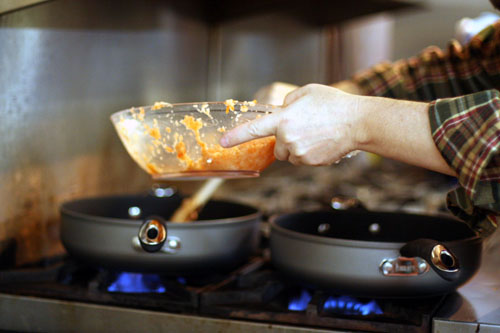 Up there, those are my Dad's hands as he spooned his latke batter into the pan. He makes his latkes with potatoes, onions, and carrots. They are absolutely fantastic, and I have looked forward to them every year all my life. He's only really allowed to cook twice a year, outdoor grilling excluded: latkes during Channukah, and matzah brie during Passover.
I really love seeing my father's hands in action.
And that, that was my father flipping his latkes, with my partner, Dave, in the background. Dave was working on our beet latkes, which didn't even place in the top three! Man. The world is not yet ready for beet latkes, tasty as they truly are. They're on the sweet side, and they're not beautiful, which I'm sure put people off of even trying them.
The winning latkes were potato-based, with some onion in there, and some sort of secret Middle Eastern spice blend that the winner refused to share. She told us that she mixed it together at home and put it in a mislabeled container just to confuse us, so we couldn't figure it out. It was pretty heavy on the thyme, that much I'm sure of.
It was an honor to lose to her. Her latkes were the best I've ever had.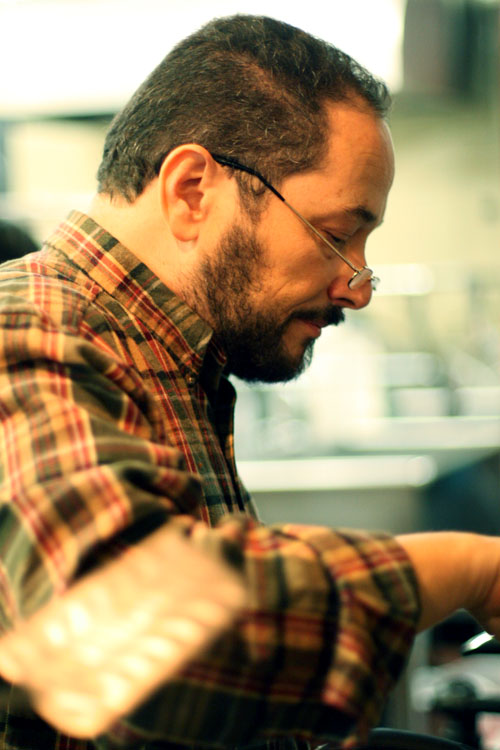 Next year, Dave wants to have a better voting system in place, and I want to create the perfect latke: my father's latkes, with that thyme-based spice mix, made just a bit thinner and crispier than any of the latkes we had this year. Now, to reverse engineer that spice mix recipe!
Are you sick of looking at my father yet? Let's move on to a quick view of those pans again, alone and in action.
If you're interested, we made Cumin-Scented Beet Latkes from Epicurious, which we discovered when Dave's mother made them last year. They look a bit burnt because the beets are so dark to begin with (thus no photos of our creations), but they are wonderful to eat, and I would make them again. Just not for a competition judged by members of my parents' conservative synagogue.