Dinner with Aki and Alex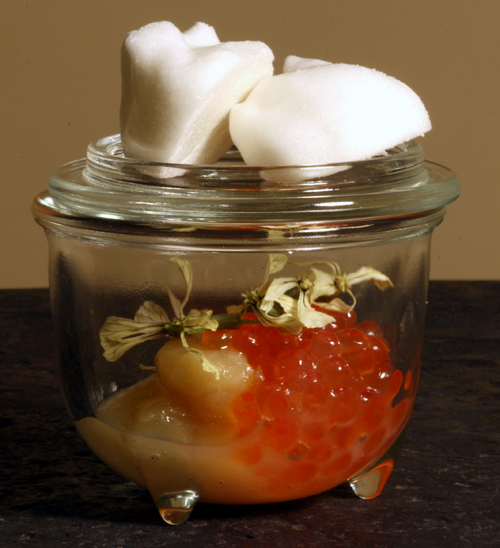 When Aki and Alex of Ideas in Food announced that they were moving back to New York City and taking on catering jobs, I was thrilled. I've been wanting to visit their restaurant for ages, but it was so far away, and now I had my chance. Nicole made it happen, and actually organized a private dinner for a few locals catered by Aki and Alex
When reading food blogs, I always wonder if the cooking is actually as good as it looks. When all I have to go on is brilliant writing and luscious photos, the taste remains a mystery.
Aki and Alex's cooking blew me away. It was even better than it looks on their food blog. Not only are they brilliant chefs, they were also kind and friendly people. At the last minute, they expanded our menu from 5 courses to 10, without raising the price. They answered all our questions, and were patient with our chattering during the meal. I hope to sneak in some cooking classes from them in the fall.
Aki and Alex posted the menu they created for us here. Nicole posted her write-up of the meal here. I have photos of some of the dishes they served, but not all.
The first photo above shows our first course, Sake Cured Steelhead Trout Roe (crispy yogurt, arugula blossoms, banana jam). The banana jam was made with yuzu and lime, and the arugula blossoms were just a touch spicy. I've never much liked caviar, but I try to take leaps of faith with tasting menus, and I was well rewarded this time. This was incredible. I love the way it looks like a tiny terrarium, and the flavors melded together so perfectly that I closed my eyes and just floated away with every mouthful.
I failed to take a good photo of the second course, Artichoke Soup (comte, whipped horseradish, lump crabmeat). It was my least favorite course of the evening, though to be fair, I'm rarely much for cold soups. The whipped horseradish foam was just lovely, though.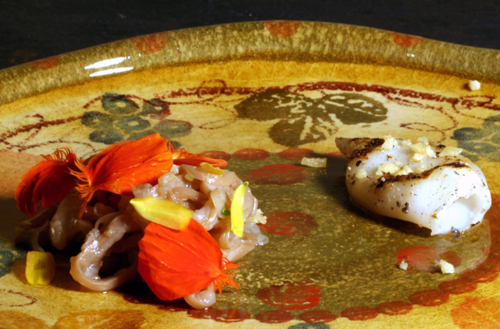 Above was the third dish of the evening, Squid Salad (lime, scallion, nasturtium flowers). It was served with grilled squid and passionfruit poprocks. The poprocks absolutely made this dish for me, though it was lovely even without them.
Another guest and I got very upset when Dave left a poprock uneaten on his plate, and we wouldn't leave him alone until he found it and devoured it. They crackled fruitily. I want to make flavored poprocks now!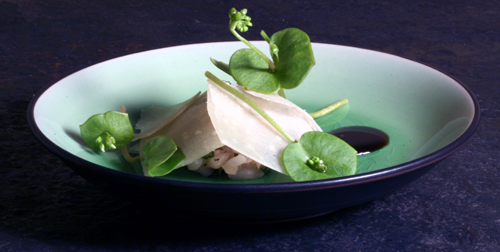 Next we were served Ivory King Salmon Tartare (pecorino crotonese, claytonia, minus 8 vinegar), as shown above. I'd never had minus 8 vinegar before, and this was reduced to an incredible syrup. Like Nicole, I would have been happy with just a thimble of the vinegar to drink, and we were given went above and beyond.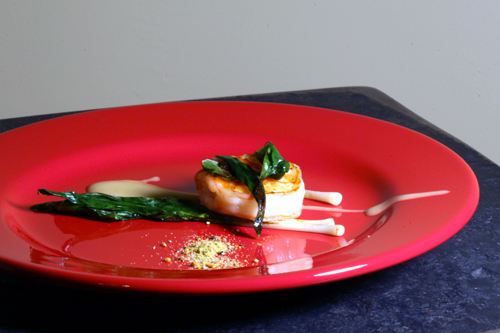 Our next dish, Griddled Florida Shrimp (blistered ramps, bee pollen, meyer lemon), was one of my favorites of the evening. The ramps were tiny and perfectly fresh. I've been so excited to find them at the farmer's markets lately. The shrimp was everything shrimp should be. The meyer lemon puree was very tasty, though I do wish it had been a bit more intense.
And the bee pollen spice mix, oh, Dave and I went home and immediately made some ourselves. It's simple, really – bee pollen, grains of paradise, salt, and sugar, ground together fairly coarsely. It is stunning. It is my new favorite pantry staple.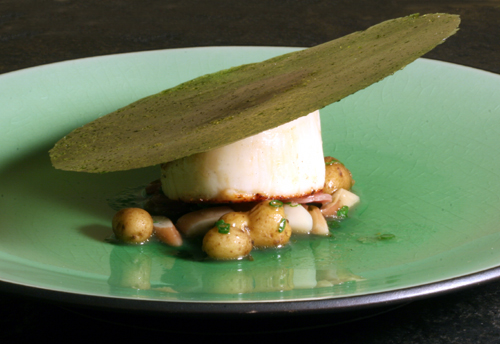 Next, we had Seared Scallop (razor clams, petite potatoes, crispy zucchini). The scallop was perfect. The potatoes were teensy tiny, the smallest, cutest potatoes I have ever eaten in all my life. The razor clams made me want to run to my favorite Chinatown fishmongers immediately. There were also slices of that lusciously sweet Chinese sausage.
The disk on top is crispy zucchini and basil, held together with isomalt. I enjoyed it, but I felt it was too big compared to the small quantity of other foods, and it was prone to sticking in my teeth. Sure was gorgeous, though.
I took awful photos of the next few courses, which I can't bring myself to post here.
We had Pork Shoulder (corn chips, baked pumpkin seeds, cilantro). Aki and Alex cooked pumpkin seeds in a pressure cooker until they had the soft texture of baked beans, and seasoned them as such. The pork shoulder was like pulled pork. The corn chip didn't do much for me, but I adored those pumpkin seeds.
Then they served us Duck Bacon (pumpernickel gnocchi, king trumpet mushrooms, pak choi hearts), with duck breast that had been cooked for 24 hours in bacon stock (bacon stock!). I usually have to peel the fat off of duck breast, but this time, I ate it with great joy. The pumpernickel gnocchi were reminiscent of foie gras, and the pak choi hearts were tiny and flavorful. (I gave my mushrooms to Dave.)
Our first dessert, shown above, was Caseificio dell' Alta Langa (musk melon, blis elixir, red amaranth). Again, perfection, with the light, luscious cheese matched with sweet melon and earthy amaranth. The blis elixir was another lovely vinegar-based concoction that I wouldn't mind drinking on its own.
I have no good photo of our last dessert, which was Sunflower Seed Pudding (red wine-rhubarb, golden raisins, ricotta). The sunflower seeds were pressure cooked into tenderness, so that this was texturally much like rice pudding. The rhubarb was cooked in red wine and served as cubes of some jelly-like substance. I just loved the raisins with the sunflower seeds, though I wish the rhubarb had had a bit more zing to it.
Dave sulked a bit about the lack of chocolate, but I appreciated the variety, since chocolate isn't exactly lacking in our household. We all went home thrilled, and Dave and I have had trouble bringing ourselves to eat this week, because all food seems boring and worthless compared to the memory of this wonderful meal.
Thank you, Aki and Alex! I can't wait to cook with you in the fall!