Hungarian Food in my Grandmother's Hungary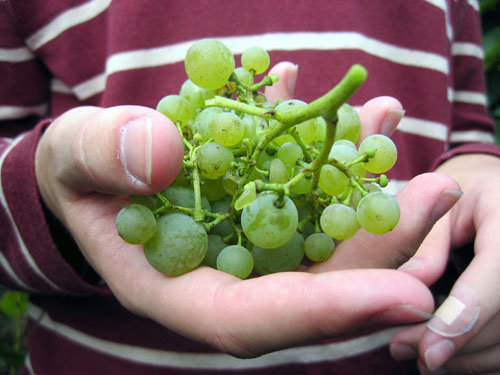 These are the rest of my photos from Hungary. They were taken in Tarpa, the town where my grandmother grew up.
Above is Josh Sucher, holding out some grapes for me to try.
We were in the grapery at the top of the hill, as my grandmother called it, belonging to her friend Szaz Karcsa (pronounced sahz karcha).


My grandmother used to babysit for him when they were both young, before the war.
She sees him just about once every 35 years. She saw him when they were young, and again when she visited in 1972, and again this summer.
He looks a little bit like my grandfather, who died when I was fairly young. He was extremely kind to us, tromping through the mud to cut a variety of grapes from his vines for us to try. He gave us far more than we could eat during the few days that we were in Tarpa.
He told us the story of how his grandfather was killed by the communists. Karcsa was just a child then, and his grandfather rejected him and never allowed him to enter the main house, because his mother was unwed and he was illegitimate. (My grandmother's mother used to take him in sometimes and treat him like a part of her family.) Nonetheless, at a certain point Karcsa became his grandfather's main caretaker. He would bring the old man his meals every day, and leave them right outside the house.
One morning, when Karcsa was about nine years old, he had just left his grandfather's breakfast at the house and walked away when he heard gunshots. He ran back to the house, just in time to see his grandfather die. Someone had told the communists that this was where they could find good wine, but they did not want to pay for it, and Karcsa's grandfather did not want to permit it to be stolen. So they killed him.
Karcsa showed us where he died.
Dave says that he did not obsess over photography as much as I did during this trip. As you can see, he is wrong.
My youngest brother, Jordan, looking very smug over his grapes, with our grandmother in the background.
Jordan followed Karcsa up and down the aisles of the vineyard.
Eating fresh-picked fruit all the way. Those peaches you can see on the tree in the top left were perfectly ripe and wonderful, too.
Everyone we visited just adored Jordan.
And why not?
Karcsa explained that he always keeps two pigs in the shed by the house. Every winter, he slaughters one, and then buys a new one to raise.
He and his wife were delighted to bring out some of their smoked ham from last winter for us to try. It wasn't quite smoked enough for my tastes, but it was very nice, and they were very generous with it.
I had my grandmother translate for me, telling them that I would love to come back and learn to butcher a pig with them if I could. Karcsa said that if I want to return some winter to help with the butchering, they would be glad to have me.
In this next photo, we were in his wine cellar, and he was draining small cups of homemade wine from his barrels to share with us.
My father believes that it was the love my great-grandmother shared with Karcsa, back when she welcomed him, a child unloved by his grandfather, into her home, that Karcsa was reflecting back at us with such warmth and delight.
I did not get any good photos of the homebrew plum brandy, the szilvapalinka, that everyone we met shared with us. The streets in Tarpa are completely lined with plum trees bearing small, sweet plums unlike any I have ever tasted before. Everyone in town collects and ferments them.
After the rain, they line every ditch.
I took a few pits home with me. I want to grow plums like these someday.
This last photo was taken by Dave. It is perhaps my favorite of this set. Plums still ripe and beautiful on a fallen branch.