Duck-Stuffed Zucchini Blossoms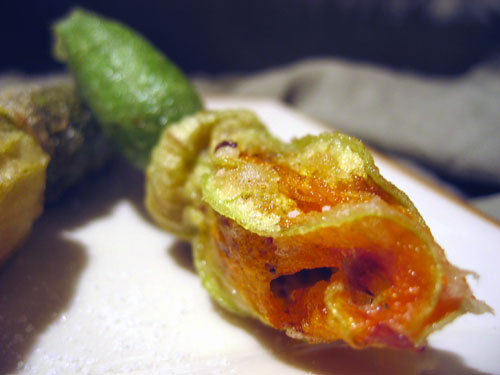 These are made in much the same manner as the last stuffed zucchini blossoms I posted about, except that they are filled with spicy duck breast instead of the sweet cheese filling I used before. I am so excited that this time we found blossoms with baby zucchini attached! I think someday I will have to try to grow squash of my own, so I can play like this more often.
Perhaps they are too similar to the ones I made before, and not entirely worth posting about themselves. But I did so want to share the photos.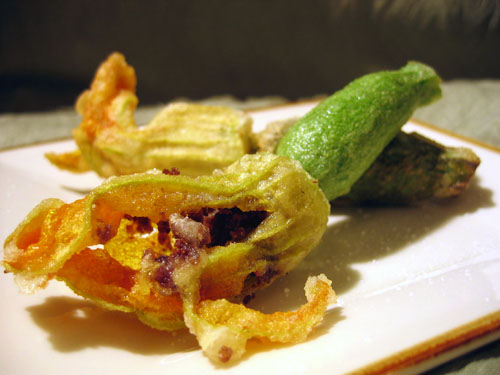 Duck-Stuffed Zucchini Blossoms
Step 1: Cover duck breast in a paste made of olive oil and the Moroccan spice mix ras al hanout. Bake, fat side up, until it reaches an internal temperature of 160°. Remove from oven and allow to cool.
Step 2: Rinse your zucchini blossoms and remove their internal organs.
Step 3: Grind the duck breast in your food processor, then mix in the cooked spice paste to smooth out the texture and add flavor.
Step 4: Stuff the blossoms with the duck.
Step 5: Coat with batter (2/3 C flour mixed with 1 C seltzer) and fry until golden.
Step 6: Sprinkle on coarse salt.