Israeli Couscous with Afghan-Inspired Caramelized Carrots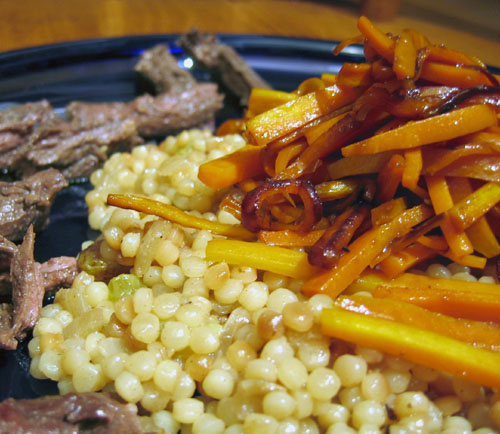 My favorite Afghan restaurant is Bamiyan, on the corner of E. 26th St. and 3rd Ave., just a few blocks away from Kalustyan's. I discovered it when I was taking the bar exam last summer. Dave's job over those few days was to make sure that I actually ate dinner, when all I wanted to do was keep studying, worry about the answers I'd already put down, and eventually collapse from exhaustion. He dragged me all over the city exploring new and interesting restaurants in those three nights. Kept me distracted by thoughts of interesting cuisines, and properly fed. Insisted on checking out Bamiyan after looking through reviews of Afghan restaurants on CitySearch.
We loved it. The kadu (pumpkin turnovers with yogurt dip) were so good that I had to replicate them at home within the next few weeks. I'm still trying to find a good recipe for my favorite dish there, fesenjan (chicken in a very thick, intense pomegranate walnut sauce).
The point of all this is that last time we were there, I ordered the Lamb Couscous and he ordered the Kabuli Palow with Lamb. The lamb was similar in both dishes and very good, but our sides tasted best when combined. My couscous had these wonderful juicy raisins in them. His rice had these richly flavored shreds of caramelized carrot. Together, they were ideal.
We purchased some bison skirt steak at the farmer's market, and cooked it the other night according to the meat seller's advice, which failed. It was far too chewy, and not nearly so good as our usual skirt steak purchased at the local Italian butcher or at Union Market. I'm not sure whether this was because it was bison, or because it was grass-fed, or because we cooked it the wrong way – if we are going to experiment properly, we really ought to change only one variable at a time.
(If anyone has advice on how to best cook bison, or grass-fed meat in general, I'd love to hear it.)
Though the meat was not so great, the couscous was the best we've ever made. At home, we tend to make Israeli couscous, which is an entirely different beast than typical Mediterranean couscous. Israeli couscous is an extruded pasta, with much larger grains. Osem brand Israeli couscous is what I grew up on, with my mother buying it from her favorite butcher over on Avenue M in Brooklyn. Nowadays, I buy it cheaply and in bulk from the Park Slope Food Co-op. My mother makes it with caramelized onions and water, but this time we added port-soaked sultanas and used homemade chicken stock instead of the water. And of course, we topped it with those carrots, which were caramelized with just a bit of sugar, thick Chinese soy sauce, and port stirred in near the end.
Let us take a break from desserts and jams. Let us not worry about our failed bison. Our new tagine will arrive in a few weeks, and now we know we can make the perfect couscous to accompany whatever we cook in there.

Israeli Couscous
250 grams Israeli large-grain couscous
2 1/2 C homemade chicken stock, boiling (we freeze ours in the ice cube tray and then keep a ziplock full of the cubes in the freezer – each ice cube turns out to be about 1/10 C)
1 onion, chopped
50 grams sultanas (golden raisins), soaking in enough hot tawny port to cover them completely
Salt and pepper to taste
Caramelize the onions in a bit of olive oil until brown and fragrant. Add the dry couscous and toast, stirring with the onions, until they start to get start to get a bit darker. Drain the sultanas, and be sure to reserve the port, as you will use it when making the carrots.
Throw in the drained sultanas, add salt and pepper, then the boiling chicken stock. Lower the stove to a simmer and cover the pan for about 10 minutes. If it turns out too dry for your tastes, add more boiling stock (or water) and let it simmer, covered, a bit longer. Once it is done, remove it from the heat, stir it up, and leave it covered until you are ready to eat.
Afghan-Inspired Caramelized Carrots
4 large-ish carrots, julienned
1 tbsp sugar
1 tsp thick Chinese soy sauce (the sort that is mostly molasses)
3 tbsp tawny port (left over from draining the raisins for the couscous)
Salt and pepper to taste
Mix the sugar, soy sauce, and port together in a small bowl. Caramelize the carrots in a bit of olive oil until they become soft enough for your tastes (I prefer them slightly firm, actually, but no longer crisp) and are starting to brown. Pour in the contents of the small bowl, salt, and pepper, and stir until fragrant. Remove from heat.
Serve the carrots atop the couscous aside whatever entree you please.