Onion Jam Thumbprint Cookies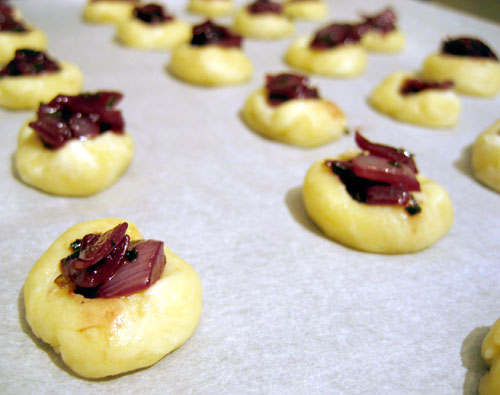 The photo is of the unbaked cookies, because I failed to take a good photo of them after they came out of the oven and before they were taken away.
I am catering a cocktail party (well, we are – I never cook alone anymore; everything I make is a joint effort with Dave nowadays). We've never done any catering before, but this was for the Fresh Fruit Festival, an LGBT theatre festival I've been volunteering to help out.
When the Managing Director asked us to make savory cookies (among other things), I said sure, though I've never heard of savory cookies before. I figured that with my cookbook collection and the powers of the internet, it'd be easy to find a decent recipe and tweak it into something good. It was not. Dave found one recipe that didn't quite work out, and then we were on our own.
Savory cookies. Sure, why not? We can supply anything except catering business cards, which perhaps we should have printed out.
If anyone out there has more savory cookie recipes, I'd love to hear about them.

Onion Jam
3 or 4 smallish onions, chopped
6 oz red wine
2 oz tarragon vinegar
1 tbsp herbes de provence
1 tbsp mustard oil
Saute the onions in butter until they are browned and nicely caramelized. Add the rest of the ingredients, stir over the heat briefly, then remove from the heat.
Thumbprint Cookies
2 1/2 C all-purpose flour
1 tbsp sugar
1/4 tsp salt
1/2 lb. (2 sticks) cold unsalted butter (cut into pieces)
One 8 oz. package cream cheese (chilled and cut into pieces)
Combine the flour, sugar and salt in a food processor and pulse a few times to mix. Add the butter and pulse until the butter pieces are about the size of bread crumbs. Add the cream cheese and process until the dough begins to clump together, about 30 seconds.
Chill the dough briefly in the fridge; 1/2 – 1 hour or so ought to do you.
When you're ready to make the cookies, position the racks in the upper and lower thirds of the oven and preheat the oven to 350°. Line two cookie sheets with parchment paper.
Roll the dough into 1″ balls. Place them on the cookie sheet and press them down with your thumb to form the indentation.
I filled them with onion jam before baking the first time, but I actually suggest filling them after baking instead, so that the onions retain that translucent beauty instead of crisping and drying in the oven. On the other hand, if these need to travel at all, fill them before baking so that the onions will adhere more to the dough.
Bake, rotating the sheets from top to bottom and front to back halfway through the baking time, for about 25 minutes, or until light golden brown at the edges. (If you cook them with the onion jam in, it may take closer to 30 minutes overall.) Cool on wire racks. Fill if you have not filled them in advance.
Grind some black pepper and sprinkle some fleur de sel (or other lovely, crunchy salt) over each cookie before serving.