The Best of 2007
I got a copy of Larousse Gastronomique for the holidays this year. What an amazing resource! That's Dave looking through it up above.
Here is another resource that I hope you will enjoy: my favorite recipes and most exciting news from 2007, rounded up below!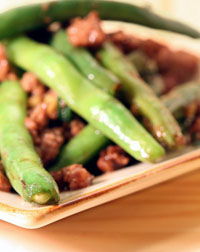 January: I started the year with a brand-new digital SLR camera, and have had tons of fun with it since. This month, I made some of my favorite dishes ever: Stewed Garlicky Black Bean Spare Ribs, Stir-Fried String Beans with Pork and Pork, and Malaysian Beef Curry with Thick Onion Sauce (Daging Nasi Kandar) (which I'm making again for New Year's Eve tonight). I also created Balsamic Fudge Drops, which is probably one of the most often recreated and adapted recipes on this site. I've seen variations of it show up all around the internets this past year, and loved coming across each and every one.



February: This month, I discovered the sheer fun of homemade Monkey Bread, and figured out a recipe for one of my favorite side dishes ever, Sweet and Sour Lotus Root.



March: This month, Dave meditated on the essential nature of cookies and invented Chewy Maple Cookies, which continue to blow everyone away. I also loved our Leek and Oyster Chowder and Raspberry Pomegranate Urfa-Biber Brownies. But the real winner of the month was my recipe for Pomegranate Ginger Saffron Braised Lamb Neck, which we've made again and again, usually using brisket instead of lamb neck. We even served the brisket version at the Passover seder we hosted this year.
And in inedible news, March was the month I left my job for the last time and set out on my own with my own solo law firm. It has brought me greater fear and joy than I ever thought possible, and now, 9 months later, I can look back and say that I haven't once regretted taking the leap.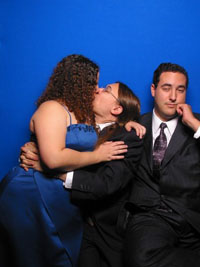 April: Dave proposed to me early in the morning on April Fool's Day, and it wasn't a joke at all. This was the month we got engaged. No food news can match that for April 2007.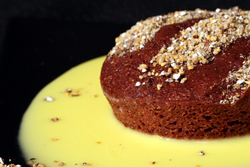 May: My favorite dish from May has got to be our Amaretto Brownies with Saffron Creme Anglaise and Bee Pollen Spice Mix. They have a few components you have to make separately, but together they were absolutely heavenly. We also made a Chocolate Birthday Cake for a little boy, using the best plain chocolate layer cake recipe I've ever found.



June: This was the month of Cucumber Salad in Two Grandmotherly Styles, both of which make my favorites list for the year. And for a moist, rich cake that will last forever, we made Rum-Drenched Cocoa-Nana Bread.



July: My favorite July recipe is actually one of my favorite recipes of all time, a dessert I take great pride in, and one of the most delicious things to ever come out of this kitchen: Hazelnut Cookie Sherry Vinegar Swirl Ice Cream.



August: This month, we took advantage of beautiful fresh figs to create what may have been my first and best stuffing, Fig, Sweet Potato, and Wild Rice Stuffing.



September: After discovering Burmese food, this month's best creation was a Not-So-Green Mango Salad.



October: This month, Dave and I learned how to make Horchata from scratch, the perfect creamy non-dairy beverage to soothe your palate between bites of a spicyhot meal. Dave created a brilliant composed dessert, Almond Buttermilk Biscuits with Sour Cherry Compote, Butterscotch, and Candied Pickled Ginger, where we learned how wonderfully sour cherries pair with pickled ginger. And on Halloween, we made the simplest, tastiest candy to come out of our kitchen this year, Pumpkin Seed Cocoa Nib Brittle.



November: I think that everything we made this month was a favorite of mine. We started the month with Smoke Date Beef Ribs, which we've probably made three times since (and that was only last month!). Next, I Magyar-ized a versatile sausage soup to make a warm and satisfying Hungarian Sausage, Baby Bok Choy, and Sweet Potato Soup. Through Dave's 2007 quince obsession, we learned that Cranberry Quince Sorbet is just amazingly creamy, because of all the pectin in the fruit. And, of course, November was the month I made bacon!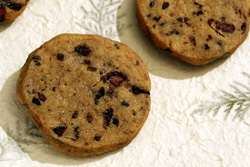 December: This month, I created my new favorite snack, Nibby Strawberry Chestnut Cookies. And for a lovely dinner, we made Miso Butterscotch Spare Ribs.


Have a happy new year, everyone!
To see other food bloggers' Best of 2007 posts, check out the Best of 2007 Roundup at One Hot Stove.