Pecan Mole
We've served this sauce at the restaurant twice now, and I'm not tired of it yet, which is an absolute miracle for me. It was another one of Dave's brilliant sauces, where he came up with the main idea and all I had to do was taste and give him a few suggestions for rounding out the flavor in the end.
When we're cooking in our tiny Lyceum kitchen, we can't really hear what's going on in the big room outside. Our waiters come back and tell us what people say and how they look, and we eagerly wait to see which plates come back with fingerswipe marks in lieu of leftover sauce.
When this mole was served the first time, though, a moment later someone out in the dining room exclaimed with delight so loudly that I could hear it back in the kitchen: "Oh my god, this sauce! There's so much going on!"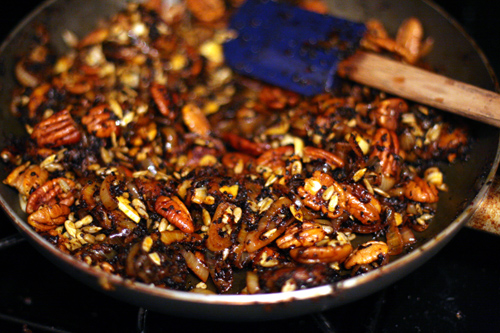 Back to work, anyways. We are at t minus 3 weeks for the wedding, and there's still so much left to do! There are fans to be made, Zambian honey to be labeled, and the flower girl still needs new shoes.
Right after the wedding, we're leaving to wander around Southeast Asia for 3 weeks. We have a few days in Tokyo on the way to Bangkok, and then eventually we fly home from Hanoi. Haven't figured out the middle yet. I definitely want to stop by Chiang Mai and Siem Reap (and Angkor Wat, of course), possibly somewhere in Malaysia, and almost certainly not Singapore or Laos. Indonesia is tempting, but 3 weeks just isn't enough time. Melaka is iffy enough as is.
Any advice? Restaurants we need to check out, people we need to meet, places we should avoid?
Archives
2008: Duck Confit and Fig Crostini
2007: Fig, Sweet Potato, and Wild Rice Stuffing
2006: Blueberry Port Chutney Shortbread Bars


This makes a ton of sauce. For 18, Dave thinks, but we always have plenty left over after that. It freezes well.
Pecan Mole
4 tbsp safflower/peanut/canola oil
1/4 C ipek pul biber (a Turkish ground hot chili – not too hot, with a complex fruity flavor)
1/2 tsp pulla (another chili – grind it before measuring)
1.5 tsp new mexican chili
2 tsp kalonji/nigella
200 gm shallot (about 5), sliced
1 plantain, sliced
4 cloves garlic
100 gm pecans
50 gm shelled raw sunflower seeds
1/4 tsp ground clove
1 1/2 tsp dried oregano
1 tsp ground cinnamon
2 tsp packed tiny dried shrimp (easily found in Chinatown)
1/2 C raisins
2 C water
2 C intense chicken stock
Salt to taste
Heat the oil in a pan. Add the chilis and kalonji. Cook for about 30 seconds, then add the shallots and plantain.
After the shallots have softened, add the garlic, pecans, and sunflower seeds.
Cook until the garlic is translucent and the pecans and sunflower seeds are lightly toasted.
Stir in the remaining ingredients and cook over high heat, stirring occasionally, until reduced to about 3 cups.
Blend until smooth.
Adjust seasoning to taste.
We most recently served this with warm zucchini terrines, lamb chops that had been cooked sous vide and then seared, garlic scapes, and cocoa nibs.
Zucchini Terrines
1/2 recipe pecan mole
8 red potatoes
4 small or 2 large zucchini
12 shallots
cocoa nibs
Salt to taste
Oil
Add a bit of extra salt to the mole sauce, as it has to flavor the potatoes.
Briefly saute the shallots until translucent.
Thinly slice the potatoes and zucchini. Toss the zucchini with oil.
In oiled ring molds or foil-lined muffin tins, layer potato slices with mole. Top and edge with zucchini. Top with shallots. Press to shrink.
Bake at 400 F for 40 minutes, then reduce heat to 350, cover with foil, and bake for 20 more minutes.
Sprinkle with cocoa nibs.