Black Pepper Tofu with Pork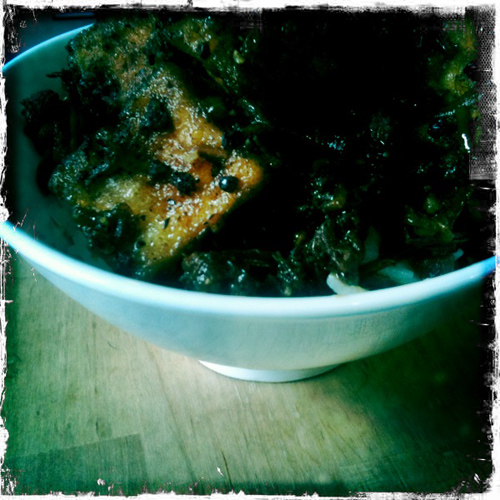 Dear people who live in or visit London,
Have you stopped by Ottolenghi yet? You should. It is a happy place that makes people happy. I spent about 2 hours fighting through insane crowds and delayed buses to get there during a London tube strike once (not counting the time spent flying across the pond and back, of course), and it was worth it. (Though to be fair, partially for the adventure and nearby chocolate shop.)
In other news, we made a modified version of Ottolenghii's black pepper tofu, modified for us carnivores who keep Momofuku-style pickled chilies in our fridge, just in case. Though the black pepper is incredibly spicy all on its own, no chilies needed, which I've never experienced before playing with this recipe. And I'm really learning to love tofu in spicy dishes. It's absolutely marvelous!
My apologies for the terrible photography. We made this dish while my mother was borrowing my good camera, so this is the iPhone Hipstamatic version of food blogging instead. It's hardly ideal, but it's better than failing to get my version of the recipe out to you.
Archives
2008: Shredded Burdock Root
2007: Lamb Kofta with Apricot Sauce


Black Pepper Tofu with Pork
(adapted from Ottolenghi)
800g (1.75 lbs) firm tofu
Corn starch, to dust the tofu
454g (1 lb) ground pork
3 tbsp sweet soy sauce
3 tbsp light soy sauce
4 tsp dark soy sauce
2 tbsp sugar
Safflower [or some other neutral] oil, for frying
65g (~4.5 tbsp) butter
12 small shallots (~350g), peeled and thinly sliced
12 garlic cloves, crushed and then minced
3 tbsp minced ginger
5 tbsp crushed (or very coarsely ground) black peppercorns
16 small, thin scallions, cut into segments 3cm (~1″) long
Optional garnish: sliced pickled chilies (recipe below)
1. Stir the pork in with the soy sauces and sugar and set aside.
2. Cut the tofu into cubes (3cm x 2cm, or about 1″ x 1/2″) and toss them in corn starch, shaking off the excess.
3. Heat your wok until it starts to smoke and feels like a radiator with your hand held a few inches above the bottom, then pour in enough oil to really coat the bottom in a thin pool. Fry the tofu in batches in the oil, turning the pieces as you go so that they're golden and crispy on all sides. Once they are golden all around, and have a thin crust, transfer to a paper towel. It's important to do this in batches, because if you overcrowd your pan the tofu will steam instead of frying and will never develop that wonderful crisp, dried texture.
4. Clean the oil and tofu bits out of your wok, then throw in the butter. Once the butter melts, add the shallots, garlic and ginger, and stir-fry until it's all shiny and soft (should take about 15 minutes, but of course your mileage may vary).
5. Stir in pork once the shallots are soft.
6. Stir in the black pepper once the pork is pretty much cooked.
7. Stir in the tofu and keep going for just a minute until it's thoroughly warmed up and coated in the sauce, then stir in the scallions and remove from heat.
8. Optionally, serve with sliced pickled chilies and a bit of their pickling liquid (recipe below). I really like the flavor and extra heat these offer. Though seriously, even without the extra pickled chili garnish, it was ridiculously spicy considering that all the heat came from just the black pepper, not chilies of any sort. Really tastily so. Serve with lots of rice.
Pickled chilies
(adapted from Momofuku)
1 C water, as hot as your tap can get (~120 degrees F in most American kitchens)
1/2 C rice wine vinegar
6 tbsp sugar
2 1/4 tsp kosher salt
4 C Thai birds-eye chilies (or other small (less than 2″ long) chilies)
Combine the water, vinegar, sugar, and salt, stirring them until the sugar dissolves.
Wear gloves when handling chilies, please. Just rinse them off and remove any stems if you feel fussy. You can slice them however you like when you actually use them later on. I like using green Thai chilies, because I enjoy their flavor and the green ones are supposedly spicier than the red ones. Really, use whatever makes you happy, and it'll turn out just fine.
Pack the chilies into some sort of fringe-friendly, long-term-storage-friendly container (tupperware or mason jars), and pour the brine over them to cover. Stick them in your fridge for at least a few days. They'll last approximately forever, to make every day a happy spicy vinegary day.