Lamb Kofta with Apricot Sauce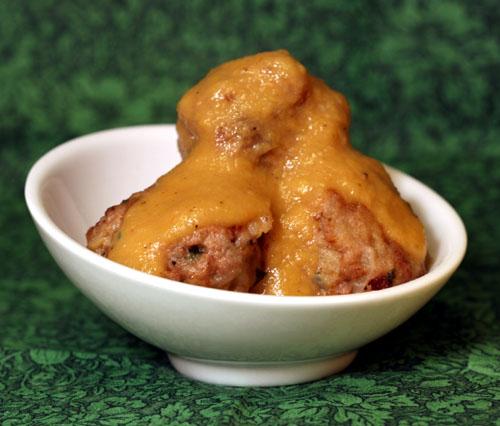 Colette Rossant's Apricots on the Nile: A Memoir with Recipes
is precisely that, a tale of how she grew up with her grandparents in Egypt, interspersed with recipes for the foods of her youth. The story is charming and sad, about a little girl abandoned by her flaky mother and then reclaimed against her wishes as a teenager. The recipes are pure temptation.
Kofta are basically meatballs. I usually make my meatballs with bread soaked in milk in them to soften the texture, but here rice serves the same purpose. The apricot sauce is not so overwhelmingly sweet as you might think, as it consists mostly of lamby chicken stock, and is made smoky and sharper by the addition of ground chipotle.
Colette Rossant wrote that her version of this dish was served at the many family weddings she attended as a child. That sounds a lot better than the finger foods I'm used to seeing at weddings here in the U.S.!

Lamb Kofta with Apricot Sauce
(adapted from Apricots on the Nile: A Memoir with Recipes
by Colette Rossant)
For the meatballs
1 1/ lbs. ground lamb
2 large leeks, white and light green parts only, finely chopped
3 eggs
1 1/2 tbsp uncooked rice (I use basmati)
1 1/2 tbsp olive oil
1 1/2 tbsp fresh cilantro, chopped
1 tbsp fresh mint leaves, chopped
Salt and pepper to taste
2 1/2 C chicken stock for simmering
Flour and oil for browning
For the sauce
6 oz. dried apricots
10 largish garlic cloves, roughly chopped
1 tbsp ground coriander
1 tbsp olive oil
2 1/2 C chicken stock (re-use the stock from simmering the meatballs, bits of meat and all)
Salt and pepper to taste
Ground chipotle to taste
Mix together all the meatball ingredients (except for the chicken stock, and the flour and oil for browning). Form into walnut-sized balls. Simmer in the chicken stock for 20 minutes.
While the meatballs are simmering, start to create the sauce. Boil the dried apricots in water until they're soft. Add all sauce ingredients (except for the chicken stock) to a blender and blend until smooth.
Remove the meatballs from the stock with a slotted spoon, drain, and allow to cool to room temperature. Cover in flour and sear in olive oil until nicely browned on all sides.
Take the chicken stock in which you simmered the meatballs and skim off as much fat as you can before adding it to the blender with the rest of the sauce ingredients. (There won't be very much, but I'm fairly fastidious about de-fatting.) It will probably have bits of meatball still in it, as they tend to fall apart a bit when simmered. Don't worry, just throw those in, too. Blend until smooth.
Taste the sauce and adjust the seasoning as necessary. It should be sweet and meaty and smoky from the chipotle.
Serve and enjoy.