Leek and Oyster Chowder
As I've mentioned before, I love chowder. What you may not know is that I also love oysters. (In fact, I love all seafood, except perhaps jellyfish and sea cucumbers.) This leek and oyster chowder is scrumptious as only a simple dish can be. The broth is creamy and flavorful, and the oysters themselves are silky mouthfuls of the sea.
Please do not give in to the temptation to make chowder with pre-shucked oysters or store-bought fish stock. It isn't really much of a hassle to do it from scratch, honest. And it's just not worth eating, otherwise.
Unlike chicken or beef stock, which have to simmer for hours, fish stock can be made in less than an hour. My local greenmarket fishmonger gives away free fish heads and bones for stock. Check with your fishmonger to see if he can help you out.
As for shucking oysters, let me tell you, I am not the most efficient shucker in town. But I get the job done. All you need is a towel or clean rag with which to hold the oyster, and an oyster knife. The towel protects your hand in case the knife slips. An oyster knife is short, thick, and not very sharp. You can use a paring knife in a pinch, but only if it is thick enough to be sturdy and not bend under pressure. Holding the oyster in one hand, the trick is to wedge the shucking knife between the shells, as close to the hinge as possible. Wriggle it in, give it a good twist, and the shells will pop apart. At that point, it's just a matter of sliding the knife in there to cut the oyster out of the shell.
One of my favorite ways to spend an afternoon is to buy a dozen Kumamoto oysters and a jar of cocktail sauce from the fishmonger on the corner of Chrystie and Grand (in Manhattan's Chinatown), then stand over the sink shucking them and eating them raw, one by one.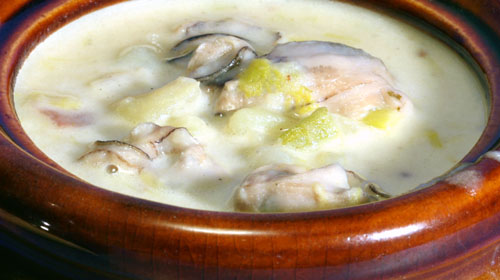 Leek and Oyster Chowder
(adapted from Jasper White's 50 Chowders
)
2 medium leeks, white and pale green parts only, halved lengthwise and chopped into 1/3″ slices
About 3 dozen medium oysters (I prefer briny East Coast oysters, personally)
4 oz. bacon, cut into 1/3″ slices (or cubes, if you can get slab bacon)
4 tbsp unsalted butter
1 dried bay leaf
1 1/2 lbs. Idaho or Yukon Gold potatoes, peeled and cut into smallish hunks
3 C fish stock (recipe below)
1/8 tsp grated nutmeg
1/2 tsp grated lemon zest
2 tsp lemon juice
1 C heavy cream
Salt and freshly ground pepper to taste
Garnish with finely chopped fresh parsley or chives
Shuck the oysters over a bowl, being carefully to catch as much of their liquor as possible. Refrigerate them in their liquor until needed.
Put the bacon pieces in your chowder pot and render them over medium-low heat, until they have released their liquid fat and begun to crisp. You want to keep the heat fairly low to keep from burning the fat.
Pour off all but 1 tbsp fat (retain the bacon!). (I keep my poured off bacon grease in a can in the freezer. It is really nice to have around.)
Add the butter, leeks, and bay leaf. Saute, stirring occasionally, until the leeks are softened but not browned.
Add the potatoes and fish stock, supplementing with water if necessary so that the potatoes are just barely covered. Bring to a boil, cover, and cook until the potatoes are soft on the outside but still somewhat firm on the inside. Smash a few if the broth hasn't thickened slightly already. Add the lemon zest and juice, nutmeg, and black pepper.
Remove the pot from the heat.
Gently stir in the oysters and their liquor. Stir in the cream. Taste. You probably won't need to add any salt, but if you do, now is the time to do so.
If you have the time, let the chowder cool to room temperature and then reheat it gently before eating, in order to give the flavors a chance to meld together more fully.
Fish Stock
4 lbs. fish frames (bones & heads)
1/2 C dry white wine
Approximately 2 quarts water
2 medium onions, very thinly sliced
4 stalks celery, very thinly sliced
2 medium carrots, very thinly sliced
2 dried bay leaves
1/4 C roughly chopped fresh parsley
6-8 sprigs fresh thyme
2 tbsp black peppercorns
Get a big pot. Combine the fish racks, wine, and enough water to cover. Bring to a boil, skimming off the ick, then reduce to a simmer. Stir in all the other ingredients. Add more water to cover, if needed.
Simmer for 20 minutes.
Remove from heat, stir, and leave it to steep for 10 minutes. Strain through cheesecloth or a very fine-meshed sieve.
You can freeze this stock for later use. We keep it in our freezer in small ziplock bags, 1 C stock per bag. Carefully labeled, given that we also hoard our homemade beef, chicken, and shrimp stocks the same way.