Farmhouse Pork with Black Beans and Green Peppers (and Trotter Gear)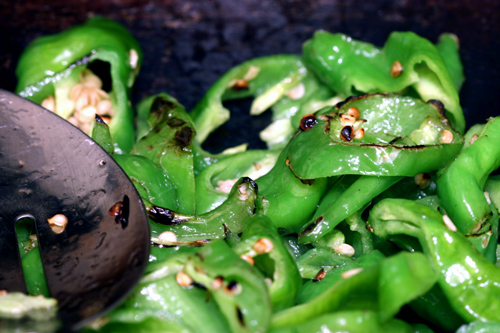 God, look at those charred peppers! They're the long, vaguely gnarly, kinda slender but not really, fairly spicy but not very, probably Italian ones I find at my local organic Korean grocery store. I love them with a deep and abiding love. Dave, however, is pretty sure that nightshades give him stomachaches, so I don't get to cook with them very much lately.
He's out of town for a conference this weekend, and I was trying to make up for missing him by cooking delicious foods that he can't eat. This tasty, spicy, black bean sauce pork dish was perfect!
I find that I'm losing my interest in refined food lately. I don't want to deal with the tiny dabs of sauces and careful presentations. My photography oomph is being taken over by marketing photos for my glass work, and I'm less interested in taking the time to arrange careful photos of my food. But I still love variety in my food, and I'm still particularly in love with Chinese cuisine. I actually just read Fuschia Dunlop's memoir, and now I'm even more hopeful of managing to come to like more of the unfamiliarly textured foods I mostly shy away from nowadays.
But peasant food doesn't have to be boring or bland. The peppers are vivid here in flavor as well as in heat. I raised the proportion of fermented black beans because I love their intensity, and I threw in an ice cube of the trotter gear I made with trotters and pig tails from Bobolink farm according to Fergus Henderson's recipe, which calls for intense homemade chicken stock as a building block for building that tasty building block.
I've come to prefer peasant food, sure, but my peasant food is damn good.
Archives
2008: Kumquat Marmalade
2007: Chewy Maple Cookies
2006: Cocoa Nib and Currant Rugelach


Farmhouse Pork with Black Beans and Green Peppers (and Trotter Gear)
(adapted from Revolutionary Chinese Cookbook by Fuschia Dunlop)
9 oz long Italian green hot frying peppers
2 oz pork belly
14 oz pork tenderloin
1 tsp shaoxing wine
1 tsp light soy sauce
1/2 tsp dark soy sauce
3 garlic cloves, thinly sliced
2 tbsp fermented black beans, rinsed and coarsely chopped
oil
corn starch
Optional: 1 ice cube worth of trotter gear (recipe below; needs to be made way in advance if you plan to use it here)
Thinly slice the meats against the grain and place into separate bowls.
Stir the sliced pork tenderloin (or other lean pork) with the soy sauces, shaoxing, and a good hefty sprinkling of corn starch, and set aside.
Cut off and discard the stems of the peppers, then slice them at an angle into oval-ish rounds about 1 1/4″ long and 1/4″ wide. Keep the seeds and ribs – as Dunlop aptly points out, this is a peasant dish! Man, I love peasant dishes.
Prep the garlic and black beans as described in the ingredients list.
Heat your wok until it is nearly smoking and feels like a radiator with your hand a couple inches above the bottom. Swirl in some oil, then stir-fry the peppers in batches as needed until they get a nice tasty bit of char to them. Pour them out into a bowl and set aside.
Wipe any pepper seeds remaining out of the wok and return it to the heat, swirling in some more oil.
Add the pork belly and stir-fry until it's lightly browned (and not necessarily fully cooked), then stir in the garlic and black beans and fry for just a moment until they're gorgeously fragrant.
Add the lean pork and stir-fry until mostly done, then return the green peppers to the wok and keep going until everything looks totally done.
Shove everything in the wok out up the sides, and toss an ice cube of trotter gear into the bottom to melt it. When it's melted, stir everything else back down in with it until hot and melded, then remove from the heat and serve with lots of rice and perhaps some sort of nice, sweet-ish tofu as a second entree.
Trotter Gear
(adapted from Fergus Henderson)
3 trotters (pigs' feet) (I threw in some pig tails, too)
2 red onions, halved
2 ribs celery, coarsely chopped
2 carrots, coarsely chopped
2 leeks, coarsely chopped
1 head garlic
2 bay leaves
12 black peppercorns
2 sprigs fresh thyme
1 cup Madeira or other sweet wine
Chicken stock to cover (about 1 quart) (ideally the homemade good stuff)
If your trotters or tails are a bit bristly (and sometimes they are), shave them. A disposable razor works wonders, and it's very straightforward. Sort of comfortably homey, even. No shaving cream, though, please.
Put all the solid ingredients into a pot. Pour in the madeira or wine, and then add enough chicken stock to cover all the stuff in there. (Homemade chicken stock really is best. We condense our chicken stock down to fit into our freezer and then often use it condensed, so this was some pretty intense stuff to begin with.)
Bring to an almost-boil, and then simmer for 3ish hours, until the trotters/tails are "very wobbly" and the meat is falling off the bone (or easily pierced by a chopstick, or whatever measure you tend to like for this sort of thing).
Take the trotters (and tails!) out of the pot and put on a cutting board. Strain the stock and set aside.
Pull all the meat, flesh, skin, tendons, and other wobbly bits off the bones. Discard the bones. If you missed any hairy bits, just pull those bits off and throw them away too. But keep all those weird, gross looking wobbly bits – they are the magic here.
Chop your meat and skin and wobbly bits and such sort of medium finely – not a superfine mince or something, but more along the lines of pieces around the size of a pinky fingernail that's been trimmed down to the quick. (Not the pig's. Yours.)
Stir your chopped up wobbly mess back into the stock.
Set up a few ice cube trays lined with plastic wrap, and portion out the wobbly-bit-filled stock into ice cubes of meaty goodness. Freeze. Once they're frozen, store them in your freezer in a big ziplock bag of meaty chunks. Add them to fried rice, to finish other stir-fries and sauces, soups, what-have-you. Instant tasty umami injection!