Malaysian Chicken Satay
We had a big going-away barbecue for my brother Jordan, who is off to Ghana for the summer as of yesterday. How better to say goodbye than with cherries and satay and live music from all his fabulous musician friends?
It was a fantastic excuse to remake my favorite satay recipe, chicken marinated in a vibrant yellow concoction fragrant with lemongrass and turmeric and coriander, sharp and floral with galangal and ginger, and sweet with rich, dark brown palm sugar, and served Thai-style with chunks of fresh sweet pineapple on the end of each skewer.
I'm in love with this sauce, as you can see. I want to put it on everything now. Steak. Eggs. More chicken. Duck! Everything!
That's my Dad, following my instructions with rolling eyes and good cheer, basting the skewers of satay with a smashed stalk of lemongrass as a brush, and oil that was steeped with lemongrass for half an hour or so before the grilling began. There is no better smell than lemongrass oil dripping onto the coals and the smoke bursting up around intensely spiced meat.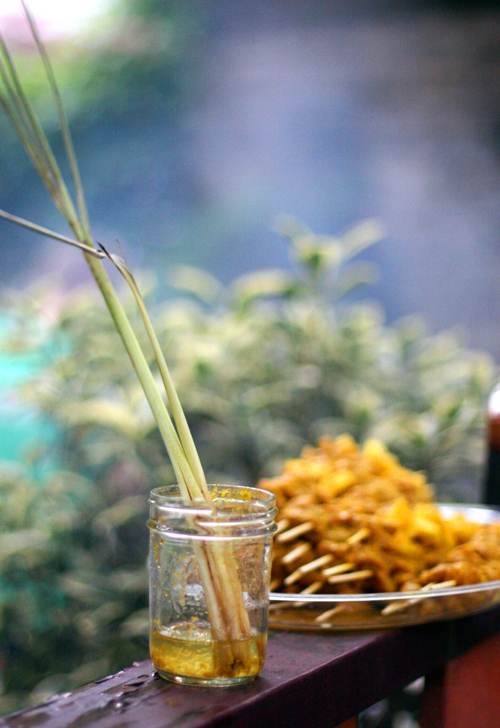 Have a great summer, Jordan! We miss you already! And in your honor, everyone else who reads this should go make and eat some of this bright, intense, tasty chicken satay!
Archives
2009: Saffron Turmeric Cake with Meyer Lemon Sorbet, Argan Oil Whipped Cream, Almond Brittle, and Thyme
2008: Chocolate-Whiskey Pudding Cake
2007: Strawberry Tarragon Sorbet
2006: Apricot Ketchup


Malaysian Chicken Satay
(adapted from Cradle of Flavor by James Oseland)
For the marinade:
1 tbsp coriander seeds (whole)
1/3 of a small star anise (more if you're into anise, but I hate it, so this is just enough to add depth of flavor without tasting like licorice to me)
2 thick stalks lemongrass
3 shallots (about 110 grams), peeled and coarsely chopped
3 large cloves garlic, peeled and coarsely chopped
1″ long piece of fresh (or frozen and thawed) galangal (approximately 40 grams), peeled and thinly sliced against the grain
2″ long piece of fresh ginger (approximately 30 grams), peeled and thinly sliced against the grain
1 tbsp ground turmeric
1/4 C palm sugar (approximately 50 grams), thinly sliced (or somehow made grind-able)
2 tbsp safflower [or other neutral] oil
1 1/2 tsp kosher salt
For the satay:
3 lbs boneless chicken thighs
1 thick stalk lemongrass
1/4 C safflower [or other neutral] oil
1 fresh pineapple (1/3 or so is really enough, but you can eat the rest!)
a bag of thin bamboo skewers, soaked in water for at least half an hour and drained
(Serves… well, I don't know. I made a triple recipe for a big party where more and more people kept stopping by, but there was plenty of other food there, too.)
Set up the marinade:
1. Set up your food processor, and grind the coriander and star anise together in it. Try to get them into powder, but ultimately don't drive yourself nuts over it at this stage.
2. Prep the lemongrass for the marinade by cutting off the hard bottom and the grassy green tops, leaving about 5-6 inches of usable lemongrass from each piece. Peel off the tough outer layers (usually there are two tough leaves wrapped around that yo don't want) and discard those. Slice the remaining tastiness into thin rounds, the thinner the better.
3. Add the prepped lemongrass, galangal, ginger, garlic, shallots, turmeric, palm sugar, safflower oil, and salt into the food processor, and process until you have a fairly smooth thick sauce. I like to actually transfer it into my blender once it's as close as the food processor can get it, and use the blender to get it even smoother. This works delightfully well.
4. Prep the chicken by removing the fat and such and cutting the meat into pieces approximately 1 inch wide by 2ish inches long by about 1/4 inch thick. Again, don't drive yourself too nuts with this – it's really not that big a deal.
5. Squish the chicken with the marinade such that all pieces are fully coated. Let it marinate at least an hour or two, and preferably overnight.
Prepare for imminent grilling:
6. While your skewers are soaking, cut up the pineapple into bite-sized chunks.
7. Prepare that last stalk of lemongrass for use as a basting brush by cutting off the hard end and then smashing the bottom with something heavy until it gets all bristly. Soak that bristly end in the basting oil to infuse while getting the rest of your prep work done.
8. Thread the chicken onto the skewers, adding a bite of pineapple in the middle and at the end of each skewer.
9. Grill! Baste each skewer with lemongrass oil (with the lemongrass brush!) as soon as it goes on the grill, and again after you flip it. You want the chicken just cooked through, with some nice char on the surface if you can get it. If you don't feel like setting up the grill, you can cook these under the broiler, but they're honestly nicer when grilled.
10. Serve immediately. Enjoy!