Chocolate-Whiskey Pudding Cake
This cake is light and luscious, like a barely cooked chocolate mousse. It's best served with strawberries, which are coming in gorgeous from New Jersey to the Greenmarkets right about now.
Last week, we had the pleasure of hosting Pille of nami-nami while she was visiting New York. She brought us some wonderful gifts, including grated rye bread from Estonia. Dave immediately jumped up when she showed us what she had brought and made her caramelized rye bread with whipped cream for us as a late-night snack.
I don't usually like rye bread. I'm boring – I like challah and english muffins and ciabatta and other simple, plain white breads. I don't like the sourness of sourdough or the complexity of wholegrain loafs. Rye is not my thing. That said, the caramelized grated rye bread with whipped cream was spectacular! I never expected to like it, but when I tasted it, I loved it. I ate a small bowlful even despite the sore throat I had at the time.
I mention this because we're thinking of serving them together at the restaurant one of these days, chocolate and whiskey and rye and cream and fruit and a few other things to pull it all together. Sounds good, doesn't it? If you can't join us when we serve it, you should give it a try at home.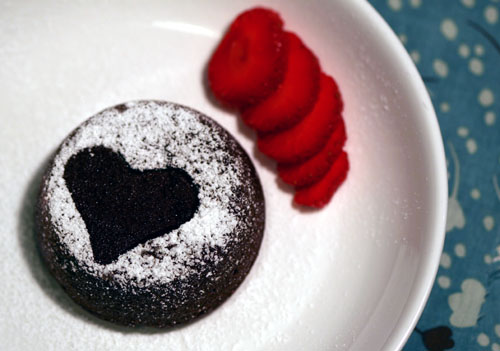 I haven't really posted about my life much, lately. Dave and Katya and I are all doing well. It's gotten too hot for glassblowing, so we've put that on hold for the summer. That said, it's finally hot enough to open up the window and get enough airflow for lampworking, so I should be back to making glass beads pretty soon.
On the wedding planning front (August 2009, so we have plenty of time), we stuck our heads in the sand for a while, and I told Dave that he has to be the bride. I'll look pretty and show up, but don't really want to be the primary wedding planner in the meantime. We are leaning strongly towards doing it out at my parents' house in the Hamptons, but are just looking around for an indoor space out there that we could reserve as emergency back-up in case there's a hurricane. And apparently we need to figure out who our vendors will be before we can apply for an event permit from the Village of North Haven. Then we can worry about the fun stuff, like what I should wear and how we can entertain people without renting a dance floor.
On the law firm front, I've gotten more into will drafting and estate planning. This summer is stuffed with depositions for a few employment discrimination cases I'm working on. And I have the usual allotment of other cases, criminal, matrimonial, and more. Two of my legal clients had dinner at my restaurant the other night, and we went through the will signing there for their convenience. It's not every day your chef comes out of the kitchen with legal documents and notary stamp in hand, but that's my life and it works.
Archives
2007: Rum-Drenched Cocoa-Nana Bread
2006: Onion Jam Thumbprint Cookies; Saffron Dill Cappelletti Stuffed With Leeks


Chocolate-Whiskey Pudding Cake
(adapted from Desserts by the Yard by Sherry Yard)
2 sticks (1 C, 8 oz) unsalted butter, cut into chunks
12 oz bittersweet chocolate, finely chopped
5 large eggs
1 C plus 2 tbsp granulated sugar
1/2 C bourbon
1 1/2 tbsp all-purpose flour
Preheat your oven to 350 F with a rack in the middle of the oven. Set up a deep baking pan with sixteen 4 oz ramekins set in it. Butter and flour the ramekins.
Melt the chocolate and butter together in a double boiler and stir together until smooth.
Beat the eggs with 1 C sugar until light and fluffy – they will expand drastically in size and become far paler than you might expect, a light cream color, almost. It'll take about 5 minutes on high speed in a Kitchenaid stand mixer.
Whisk in the chocolate mixture and the bourbon.
Stir the flour and 2 tbsp sugar together in a separate bowl. Whisk that into the batter as well.
Fill the ramekins to about 1/4″ from the top with the batter.
Pour boiling water into the baking sheet around the ramekins, such that it comes about halfway up the sides of the ramekins.
Bake for about 20 minutes, or until fully set. Remove from the oven and set to cool on a rack. Serve slightly warm with fruit and perhaps whipped cream (Yard suggests whipped creme fraiche).