Son-in-Law Eggs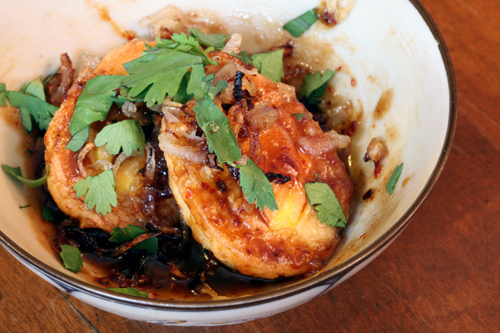 In anticipation of passing through Thailand as part of our honeymoon, I've been pulling out some of my favorite Thai cookbooks (stolen from my mother with her consent when I first moved out, as she has great taste) and playing around with them lately. It doesn't really make sense, since I know I'll spend at least the first month after returning from the trip trying to recreate a lot of the flavors and textures we'll encounter there, but I'm having fun.
This dish is a really fantastic Thai dish that I've never seen in restaurants around here. And to be honest, it's actually just Rasa Malaysia's version, but with the different forms of tamarind and chili powder that I tend to have on hand, and taking out the peanuts, which I hate. I read through about half a dozen different recipes, but this looked the best, and it was a smashing hit when I made it.
The sauce is sweet and sour and luscious and plate-lickingly good. I keep thinking of other things I can douse in it!
Archives
2008: Sour Cherry Coffee Cake
2007: Apple Caramel Ice Cream
2006: Blueberry Oatmeal Crisp with Lime Ice Cream


Son-in-Law Eggs
4 eggs
2 big shallots (finely chopped)
Oil for deep frying
Cilantro (coarsely chopped) to garnish
for the sauce
1/2 tbsp fish sauce
2 tbsp dark palm sugar
1 tbsp tamarind concentrate
A splash of water
1 clove garlic (minced)
1 tsp coarse Korean chili flakes
Hard-boil the eggs, and cool in a cold water bath. Shell them and slice them neatly in half the long way.
Fry the shredded shallots until crispy and golden brown, then remove them and place them on a paper towel covered plate to drain. They crisp up more as they drain.
Deep fry the eggs until they turn a really vibrant golden brown. It's sort of astounding how well they fry! Then remove them with a slotted spoon and place on a paper towel covered plate to drain.
Pour out the oil, leaving only about a tablespoon behind still in the pan. Add the garlic and saute until light brown. Stir in the chili flakes, then the tamarind concentrate, water, palm sugar, and fish sauce. Bring the sauce to a boil, and it's basically done.
Arrange the eggs on rice, and pour the sauce on top of the eggs. Top with fried shallots and fresh cilantro. Serve immediately.