Blueberry Oatmeal Crisp with Lime Ice Cream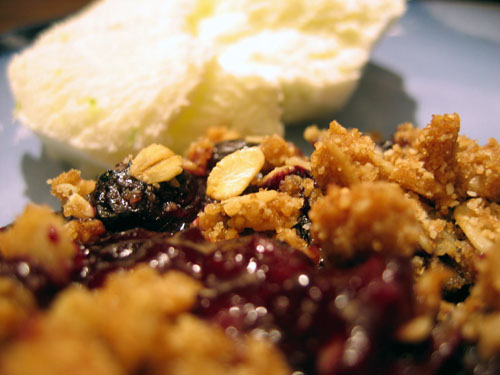 Whenever I see blueberries, I think of my mother. She loves blueberries so much that even when she was pregnant with one of my brothers, Josh, and eating them made her feel nauseous, she just couldn't stop. Pregnant and sick and miserable, she ate blueberries until she vomited purple.
She has told me repeatedly that that was when she truly understood just how much my father loves her – when she was pregnant and ate too many blueberries, the day he cleaned up her purple vomit for her.
Not the most appetizing story, I know. But blueberries are love, and after seeing the way they have been overflowing the farmer's markets in the area lately, I had to make this blueberry oatmeal crisp. It may look like purple vomit, but it tastes much, much better. It is warm and gooey and crunchy and good, and it would tempt my mother even were she pregnant and sick again. I'm sure my father would gripe, but take care of her in the end.


Blueberry Oatmeal Crisp
For the gooey bottom
3 C fresh blueberries
1 tbsp flour
2 tbsp plus 1/4 C (packed) dark brown sugar
1/2 tsp ground cinnamon
Lime juice to taste
For the crisp top
1/2 C rolled oats
1/4 C almond meal
2 tbsp all-purpose flour
1/4 tsp salt
2 tbsp butter
Preheat the oven to 350°.
Rinse the blueberries, but do not pat completely dry. Pour them into a buttered small-ish baking dish. Add the other gooey bottom ingredients, and stir to mix. Leave it be while you prepare the top so the sugar has a chance to dissolve.
Mix in all the dry ingredients for the top, then rub in the butter with your fingers until the texture is somewhat clumpier. Sprinkle the crumblies over the blueberries.
Bake for about 35 minutes, or until the berries are bubbling and the top looks golden and done. Allow it to sit and cool to merely warm before serving.
Lime Ice Cream
2 C heavy cream
1 C milk
1/2 C sugar
Juice and zest from 2 limes
Whisk all ingredients together. Chill. Put through your ice cream maker as usual. I know it sounds terrifying, and you may fear that the citric acid will curdle the milk and cream, but I assure you that it will not. All is well.