Circle Swap: Homemade Jams, Jellies, Curds, Chutneys, &c.
Summer is here, and I have been in a frenzy of home canning. I have been making jams, curds, chutneys, and sealing them in jars to lay in for the colder months to come. I know I am not the only one who acts on this urge.
I propose that we add some variety to our stores of jars by holding a circle swap.
If you would like to be involved, please leave a comment on this post or email me. Let me know what country you are in, what you have available to swap, whether you are willing to ship internationally, and how many people you would like to swap with (ideally). Ah, and also your email address.
The deadline for contacting me in order to be involved in this swap is August 1, 2006. (Don't worry if you miss the deadline; assuming all goes well, we will simply do it again.)
Once all the names are in, I will put together swap lists and let each person know to whom they should send a jar of homemade goodness (and from whom they shall receive one). Each person can then contact their swappee to figure out addresses and perhaps negotiate which jar to send over, if they would rather that than a surprise.
(Personally, I am up for shipping internationally, and swapping with as many different people as I can, until either the jam runs out or Dave gets mad at me for sending too much of it away.)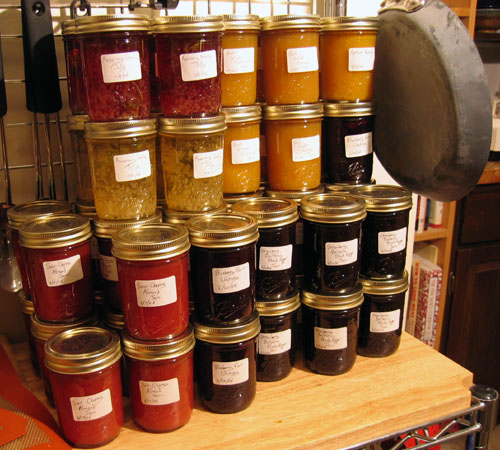 Pictured above: rosemary garlic jelly, sour cherry almond jam, sour cherry sage flower jam, strawberry balsamic black pepper jam, peach cardamom ginger jam, peach shallot nutmeg jam, blueberry port chutney, grapefruit almond curd… anyways!
Once you get your jar, I strongly encourage you to open it up, use it, and blog about it! But if you would rather squirrel it away for a while first, I would utterly understand.