Chewy Maple Cookies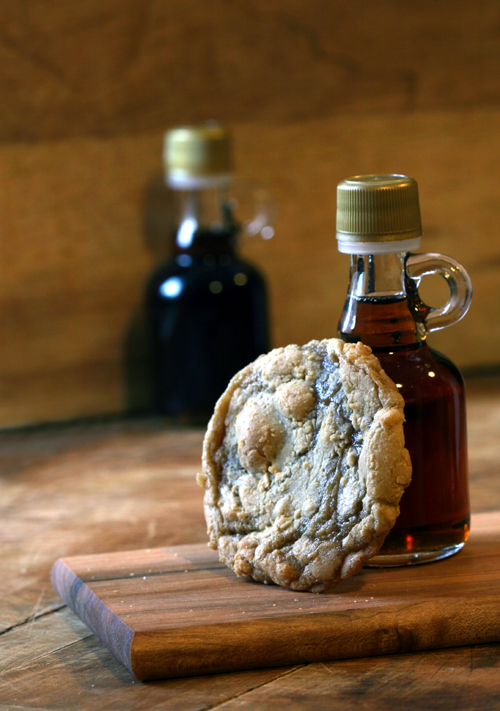 This recipe was invented by my partner, Dave. He was so delighted by the reduced maple syrup we had to create when making the maple crema that he wanted to use it as a cookie base as well. He threw in the rest of the ingredients by feel, figuring that the proportions should be something like Tollhouse cookie proportions.
The end result was an utterly mapley, chewy, almost candy-like batch of cookies. I find them deeply addictive, and hope to give some of them away soon to keep myself from eating them all. The only thing better than eating home-made treats is giving them away, after all.
In the end, it turned out that I like these more than Dave does. He usually has much greater tolerance for sweetness than I do, but somehow these are too sweet for him, but just right for me. I cannot explain this, but it is true.
These are basically maple candy in the guise of chewy cookies. Take from that what you will.

Chewy Maple Cookies
2 C maple syrup (ideally Grade B)
1 stick unsalted butter
1 tsp vanilla extract
1 tsp baking powder
2 C flour
1 egg
Preheat your oven to 350º.
Boil the maple syrup until it is reduced to a third of the amount (2/3 C). Use a larger pot than you think you need, because it will bubble up and over tremendously. Don't let it turn to caramel. Use a thermometer to keep it under about 250º. When you turn it off, let it cool to below 212º.
Stir in the butter until it melts and combines. Check the temperature and make sure it is below 120º; you don't want to cook the eggs. Mix in the other ingredients, flour last, until combined. Chill for at least an hour, or until thick enough to form into solid-ish balls.
Place chestnut-sized balls of dough several inches apart (these cookies spread!) on a baking sheet lined with parchment paper.
Bake for 10 minutes, or until pale gold. They'll be very soft when they come out, but don't be afraid. Just transfer them carefully to a cooling rack and let them solidify as they cool before eating them.