Cardamom Almond and Black Pepper Chocolate Pinwheel Cookies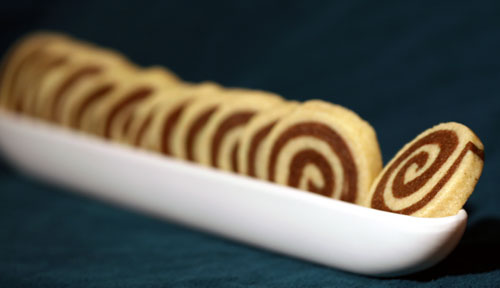 I am constitutionally incapable of looking at a cookie recipe without feeling the urge to add, oh, cardamom and black pepper. Or something along those lines. It's just one of those things. Some people can look at a chocolate almond swirl of a cookie recipe and think, God bless this green earth and the cookies that it brings forth! I think, I wonder how far I can twist it before it breaks.
This recipe did not even come close to breaking. No matter how much cardamom and black pepper I threw in, the flavors didn't overwhelm the general unity of the cookie. They came together harmoniously, melding into a cohesive whole so lovely that I had to really focus to pick out the individual flavor notes.
The texture here is thick and chewy, slightly on the dense side. I happen to prefer chewy cookies, and I bet these would be fantastic dipped in milk. I've been munching on them non-stop, alternating bites with sips of spicy chai.
These are also very convenient cookies. They can be sliced and baked while still frozen, so you can make the dough in advance and freeze it until you're in the mood, or unexpected guests drop by. The cookies haven't been around long enough to tell yet (I made them just last night), but my guess is also that they will keep fairly well in an airtight container for at least a few days.

Cardamom Almond and Black Pepper Chocolate Pinwheel Cookies
(adapted from a Maida Heatter recipe)
1 stick unsalted butter
1/2 tsp vanilla extract
3/4 C granulated sugar
1 egg
1 3/4 C all-purpose flour
3/4 tsp baking powder
1/4 tsp salt
1 oz. unsweetened chocolate (I used Ghirardelli 100%)
1/2 tsp freshly ground black pepper
1/4 tsp almond extract
1 tsp ground cardamom
Melt the chocolate, and set it aside to cool a bit.
Cream the butter. Blend in the sugar and vanilla extract, then the egg. Mix in the flour, salt, and baking powder until just combined.
Separate the dough in half. Mix the chocolate and black pepper into one half of the dough, and mix the almond extract and cardamom into the other half.
Roll out each type of dough separately into an 9″x14″ rectangle. It helps to roll each dough out between two layers of wax paper. Then remove one layer of wax paper from each dough, and carefully lay one atop the other, trying to align them as best you can. If you like, you can firm them up in the freezer before layering them.
Remove the top layer of wax paper, and use the bottom layer to help you roll the dough up like a jelly roll, starting with a long side.
The dough must be cold and firm before you cut into it. It can be sliced frozen, so your simplest option is to just stick the cylinder in the freezer until it hardens.
Preheat your oven to 350º.
Slice into 1/4″ thick slices, and lay them 1″ apart on a cookie sheet. Bake for 12-14 minutes, rotating from top to bottom and from front to back halfway through.
They're done when they are just barely starting to become pale gold around the edges. Err on the side of undercooked rather than overcooked, if need be.
Note: Here is the trick to making good pinwheels.
Use that bottom layer of wax paper. I mean, really use it. Roll each curve with it, tucking it tight, and then pulling the end of the wax paper out and adjusting it before the next incremental curve.
In the end, roll the wax paper around the whole thing, and roll the whole cylinder on the table just to even it out and compress the layers. Pretend you're rolling out a play-doh snake. It's the same technique. (Didn't play with play-doh as a kid? That may be the problem. In that case, get a kid to help with this step.)
Freeze it. Take it out occasionally to roll it on the table again, just to fix any flattened bits as it stiffens. Alternatively, I hear it's very helpful to cut a cardboard tube (say, from a finished roll of paper towels) in half, and use that curved mold to keep your roll nicely curved as it freezes.
And definitely wait until it is frozen before cutting the slices, else it will compress and deform when you make your cuts.