Pork and Chestnut Goulash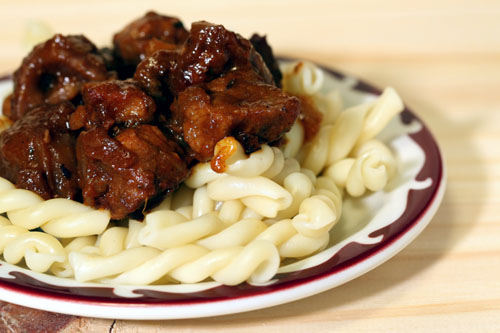 I hate shelling chestnuts. I always end up with sharp bits of shell poking the tender flesh beneath my fingernails until it hurts and bleeds. This is unappetizing, but true.
I love eating chestnuts, though. I was raised on chestnut puree as a snack food of choice, after all.
So when I came across this recipe, I hunted around until I found pre-roasted, pre-shelled, vacuum-packed chestnuts. Sound terrible, don't they? Thing is, they were wonderful, just perfect, and I couldn't tell the difference when they were cooked into this goulash.


Pork and Chestnut Goulash
(from this recipe)
2 lbs pork (shoulder or butt), cut into 1″ cubes
1 lb chestnuts
3 onions, thinly sliced
3 tbsp sweet Hungarian paprika
3 tsp all-purpose flour
3/4 C hard cider
3/4 C chicken stock
Pinch of dried thyme
1 bay leaf
Salt and freshly ground black pepper to taste
First, roast your chestnuts. (I cheated – I bought pre-roasted, pre-shelled, vacuum-packed chestnuts. This goes against everything I believe in, aside from my belief that it is best to avoid shelling nuts until you bleed underneath your fingernails if at all possible.)
Sear the pork in a bit of oil in a hot pan until nicely browned on all sides. Remove from pan and set aside. Brown the onions in the same pan, adding butter if necessary (it was, for me). When they're done, add the flour and paprika (and still more butter, perhaps) and cook for a few moments.
Either transfer everything to a Chinese sand pot (my favorite cooking vessel), or add all the other ingredients to the pan. Remember to reduce the quantity of liquids if necessary such that they don't come up higher than halfway up the meat. Simmer, covered, for an hour or two, or until sufficiently tender. Stir in the chestnuts.