Blueberry Port Chutney Shortbread Bars
When I was flipping through Gale Gand's Just a Bite, what really caught my eye was her suggestion that when making shortbread, you can simply grate the frozen dough into your baking pan instead of bothering to thaw it and roll it out. How simply wonderful! That means that you can keep a hunk of shortbread dough in your freezer at all times, and actually use it on a last-minute whim whenever you please.
I adapted the recipe for the blueberry port chutney from Chutneys & Relishes by Lou Seibert Papper. Using lime instead of orange, and the tawny port we had on hand rather than the ruby port his recipe calls for, it turns out to be a complex treat that works as well on meat dishes as it does on waffles or in cookies. I don't think I shall ever again be able to bear not having at least a few jars of this chutney in my pantry.
The rich, mild shortbread mellowed out the spicy tartness of the chutney, so that they came together very nicely. If you substitute some other jam or preserve, I really do suggest using something very intensely flavorful to balance out the shortbread.
The blueberry port chutney really is a treat, and so I am also considering this my entry for Sugar High Friday #22: Can You Can?.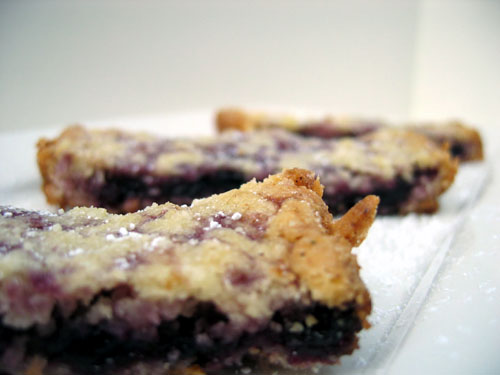 I'm not sure whether that front shortbread bar is waving hello or gesturing rudely at the camera which stands between the cookie and my mouth. Interpret it as you will.

Shortbread Bars
(from Just a Bite by Gale Gand)
1 stick unsalted butter, cold, cut into pieces
2 egg yolks
1 C granulated sugar
2 C all-purpose flour
1 tsp baking powder
1/2 tsp cinnamon
1/8 tsp salt
1/2 C blueberry port chutney (recipe below), or any other jam or preserves
Confectioner's sugar (for sprinkling)
Cream butter. Beat in egg yolks. Stir together dry ingredients in a separate bowl, then mix in until the dough just starts to come together. Wrap the ball of dough in plastic wrap and freeze overnight.
Preheat the oven to 350°. Butter and flour a pan. I actually used a loaf pan to get bars of the size I wanted. Grate the frozen dough in an even layer across the bottom of the pan. Cover with a layer of chutney (or jam, or preserves), leaving a 1/4″ margin or so around the edges. Grate more frozen dough across the top. Allow it to remain loose and do not press it down.
Bake for 25-35 minutes, or until done.
Blueberry Port Chutney
(adapted from Chutneys & Relishes by Lou Seibert Papper)
Zest from 2 limes
1 cinnamon stick, broken into pieces
1/2 tsp whole allspice
1/2 tsp whole cloves
1/2 C red wine vinegar
1/2 C granulated sugar
2 tbsp tawny port
2 C fresh blueberries
Sterilize jars.
Tie the zest and spices in a ball of cheesecloth. Place the bundle, along with the vinegar and sugar, into a saucepan. Bring to a boil, then lower to a simmer and cook for 5 minutes. Add the port and blueberries and continue to cook (somewhere between a hard simmer and a gentle boil), uncovered, for another 5 minutes. Using a slotted spoon, transfer only the blueberries amongst your jars. Raise the heat and boil the remaining liquid and spices gently for about 10 minutes, then remove the bundle and pour the liquid over the berries. Seal.