Fig and Date Basteeya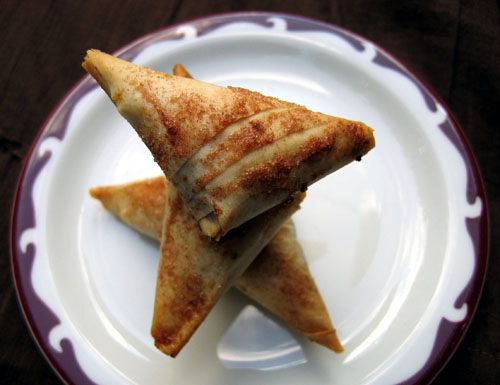 In their original form, basteeya are Moroccan dove pies, savory pastries of spiced dove with almonds and cinnamon and sugar. We usually make them with chicken instead, with cumin and saffron and dill and other such things. There are often several dozen of them in our freezer, in case of emergency meat hunger.
These sweet fig and date basteeya are based off a recipe from Food & Wine Magazine. They taste like pastry candies to me, chewy and dark and sweet. I made them with almond meal, because I do not like whole nuts, and with bamboo honey, which has a more distinct flavor than the clover and goldenrod honeys Americans tend to use, but is not quite as overwhelming as, say, buckwheat or walnut honeys can be. The tang of the bamboo honey complemented the dried fruit very well.


Fig and Date Basteeya
3/8 C finely chopped dried Black Mission figs
3/8 C finely chopped dates
1/4 C almond meal
2 tbsp honey
1/4 tsp vanilla extract
1/4 tsp almond extract
Pinch of salt
1/4 C very hot tap water
Phyllo dough
Unsalted butter, melted, for brushing
Cinnamon and sugar, for sprinkling
Mix together in a bowl the figs, dates, almond meal, honey, extracts, salt, and water. Cover with plastic wrap and leave in the fridge overnight.
Lay out one sheet of phyllo dough at a time, leaving the rest covered with saran wrap and damp paper towels over the saran wrap in the meantime. Cut the sheet of dough into strips the short way. It's best to keep them relatively narrow, maybe only 1 1/2″-2″ wide or so, because these are so densely sweet.
For each strip: Brush melted butter over the entire strip of dough. Place a glob of filling near the top. Fold the dough over it and down along the strip the same way you would fold a flag. Brush melted butter over the top of the fully folded pastry, and sprinkle on some cinnamon and sugar. Repeat with as many strips as you have filling to fill.
At this point, you can either bake and eat the pastries immediately, or you can freeze them to be baked and eaten later.
Bake at 400° for 25-30 minutes if fresh, or 40 minutes or so if frozen.