Cucumber Salad in Two Grandmotherly Styles
When I think of cucumber salad, I think of all the love and sheer stubborn energy that only your grandmother can bring to the table.
My grandmother, my Ima, makes very classic Hungarian cucumber salad, with vinegar and (again, you guessed it) paprika. Alanna of A Veggie Venture learned to make cucumber salad with sour cream from her grandmother, her Nana.
Incidentally, Dave made the red bowl shown in these photos, and I made the clear bowl with the dramatic lip (I like to call it my Elvis bowl). We are still as exuberant about glassblowing as ever.
I was about to make Alanna's Nana's cucumber salad when I suddenly realized that I had never asked my grandmother to tell me how to make our family's version. I called Ima immediately and asked her to tell me what to do. (We call our grandmother Ima, the Hebrew word for mother, because that's what my mother and my aunt always called her when we were growing up.)
Ima sure was pleased to hear my voice, and even moreso to hear that I had called because I needed her advice. Sometimes I think that she takes her greatest pleasure in life in my admitting that there are still things left for her to teach me.
There always will be, I'm sure.
Both cucumber salad recipes start the same way. You mix thin cucumber slices with some coarse salt, and let them sit for an hour or so. The salt draws a lot of water out, and the cucumber slices become somehow soft and pliable without losing their crispness.
It's a lot like preparing cabbage for many Hungarian dishes, in fact. That also starts with a step of salting and setting aside, to draw out the moisture and change the texture of the vegetable.
Don't worry, you rinse the salt water away and press the cucumber slices dry before going any further with either of these recipes.
From there, their paths diverge.
Ima's cucumber salad is a Hungarian classic, sharp with vinegar and pulled together with the hefty sprinkling of paprika that she throws into almost everything she cooks.
Alanna's Nana's cucumber salad is a gentler creation, sweeter, luscious with sour cream and vibrant with chives.
I made half a cuke of each, to test them against each other, and I still can't tell which I prefer. I guess I'll just have to keep eating them both until I can figure it out.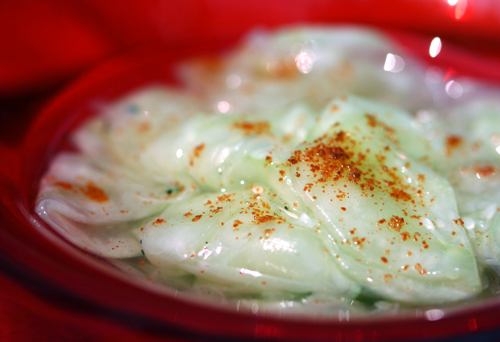 This is my second entry for Salad Stravaganza, assuming I'm permitted to enter twice.

My Ima's Cucumber Salad
1 English cucumber (these are the huge ones, usually plastic-wrapped and marked 'seedless')
1 onion
1 tbsp coarse sea salt or kosher salt
Water
White vinegar (anything but Heinz, says Ima)
A large pinch of sugar
Freshly ground black pepper to taste
Sweet Hungarian paprika to taste
Peel the cucumber and slice into thin rounds. I use my mandoline for this job, because I like how delicate the cucumber slices become. Thinly slice the onion as well. Mix the salt in with the cucumber and onion, and set aside for about an hour.
Rinse and squeeze out what water you can. Add enough liquid to just barely cover the cucumber and onion. It should be about 2/3 water to 1/3 vinegar, though you should adjust that to taste. Mix in the sugar and black pepper as well, and sprinkle some paprika on top.
Let it sit for about 20 minutes before serving, to give the flavors a chance to meld.
Alanna's Nana's Cucumber Salad
(recipe originally posted by Alanna of A Veggie Venture)
1 English cucumber
1 tbsp coarse sea salt or kosher salt
1/2 C sour cream
Generous bunch of fresh chive, snipped with scissors
1 tsp sugar
Salt & pepper to taste
Slice the cucumber into thin rounds. Combine with the salt and let sit for about an hour. Rinse, press out what water you can, combine with the remaining ingredients, and serve.