Smoky Date Beef Ribs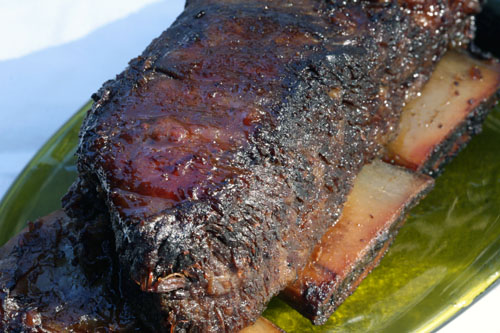 Date molasses. Date molasses! I was introduced to this stuff by a friend who made a brilliant spicysweet ice cream with it (which I will one day make, play with, and post, quite probably). It's an intensely flavored syrup that you can find in middle eastern grocery stores, and it lives in our pantry alongside our pomegranate molasses, although we keep our saba (grape molasses) and our homemade sour cherry molasses in the fridge.
These ribs also feature mesquite smoke powder, which you can order from Auntie Arwen's Spices (a really wonderful resource, where I also love to stock up on Two Knives Special Curry Blend and Thief in a Jug Garam Masala).
I feel like a cheater using smoke powder, but with our tiny apartment, we only like to go through the hassle of setting up the smoker for truly serious endeavors, like homemade bacon (which is curing in the fridge right now, so I'll let you know how it goes sometime next week). For ribs like this, mesquite smoke powder is incredibly tasty without all the fuss.
I must confess that I first posted this recipe to Gothamist last week. I only mention this because the two comments that post garnered are beyond funny. One person wrote:
I am dissapointed. From scrolling down and only looking at the picture I assumed this had to do with the fact that this cut of meat looks like Manhattan. I was wrong.
And the other wrote:
is there a vegetarian option?
You gotta just laugh.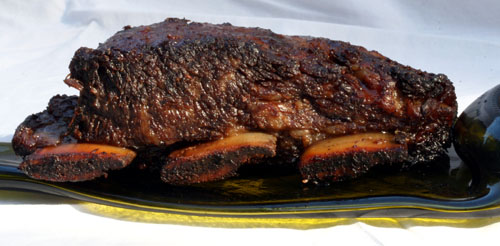 Smoky Date Beef Ribs
4 lbs beef spare ribs or 6 lbs beef short ribs (if they're very fatty, get even more)
3/8 C date molasses
3/4 tsp ground nutmeg
2 tbsp ground ginger
3/8 tsp mesquite smoke powder
Lots of freshly ground black pepper
Salt to taste
Beef stock to taste (optional)
Trim as much of the fat off the ribs as you care to. I prefer my meat fairly lean, so I tend to do a lot of dissection, but your mileage may vary.
Mix together all the other ingredients (except for the beef stock) in a bowl – this will be used as both marinade and sauce later on.
Remove 1/3 of the marinade to another bowl, and thin it with beef stock to taste, then set it aside. This will be the sauce.
Rub the rest of the marinade all over the ribs. If you are patient, let them sit in it in the fridge overnight. If not, just go ahead and roast them right away.
Preheat your oven to 350 F.
Set up a baking sheet covered with aluminum foil. Wrap the marinade-covered ribs with more aluminum foil in a nice tight package, then roast them until tender and done. Spare ribs take about 2 hours, while short ribs take closer to 2-3 hours.
This is particularly nice if you pull the meat off the bone and mix into the sauce (like pulled pork) before serving.