Pumpkin Seed Cocoa Nib Brittle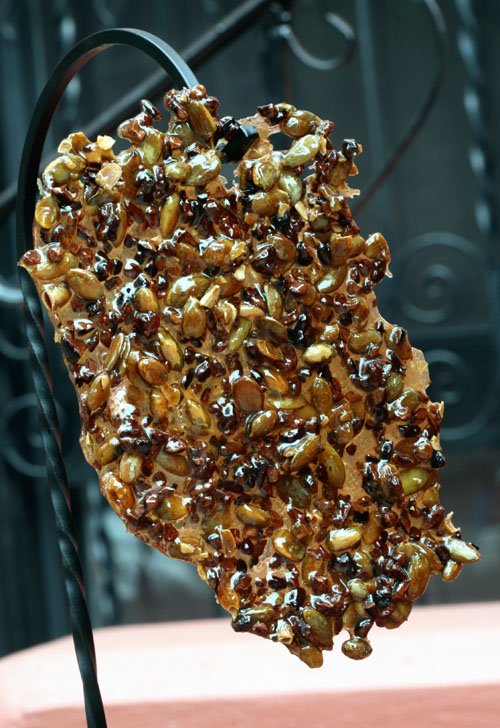 This is autumn in its purest form, by which I probably mean its most candy-like form. Forget maple sugar drizzled on snow and all those other mental images we all picked up from Little House on the Prairie – this brittle is the real deal.
Offering to friends and officemates has been a blast, because people have a hard time identifying the ingredients. Chocolate? Nuts? No one knows.
The brittle was delicious on its own, but I think it would be even better as a crunchy garnish to cheesecake or some other creamy dessert. And I'm actually considering making up another bash to garnish the pumpkin curry cupcakes with maple buttercream frosting I'm making for a friend's wedding this weekend. The authors of the recipe, which I originally found in Essence of Chocolate: Recipes for Baking and Cooking with Fine Chocolate
, even suggested grinding it up into brittle crumbs and using it to brighten up your oatmeal in the morning.
I really love dishes which work well as components in a large variety of meals, because they feel like not only a tasty finished product, but also like yet another tool to work with.

Pumpkin Seed Cocoa Nib Brittle
(from Essence of Chocolate: Recipes for Baking and Cooking with Fine Chocolate
by Robert Steinberg and John Scharffenberger)
1/4 C raw green pumpkin seeds
1/4 C cocoa nibs
1/2 C sugar
1/4 C water
1/8 tsp cream of tartar
A pinch of cayenne
Toast the pumpkin seeds in a dry pan over medium heat, shaking very frequently, until they begin to pop. Set them aside to cool.
Set up a baking sheet covered with a Silpat.
Bring the sugar, water, and cream of tartar to a simmer together in a small saucepan. Continue to simmer until it starts to develop a nice light caramel color that appeals best to you. Stir in the other ingredients, then quickly pour it all out onto the baking sheet and spread it thin as you can with a silicone spatula or wooden spoon.
Let it cool and harden before breaking off pieces to serve and devour.