Cardamom Meyer Lemon Créme Brûlée Bubbles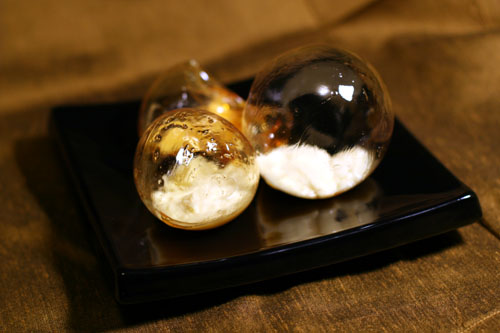 This is my entry for Sugar High Friday #26: Sugar Art. Today is the last day to post entries, so please get them up and email me about them soon! I'm really excited about all the entries I've seen so far, and would love to see what the rest of you can come up with, too.
These are blown bubbles of caramelized sugar, filled with a standard créme brûlée custard flavored with cardamom and meyer lemon zest. Edible art, they are probably the prettiest and most elegant dessert I know how to make, and among the most delicious as well.
We taught ourselves to do this after seeing photos of Alinea's take on créme brûlée. (Yes, their custard is powdered. Ours is not. As you can see, if you blow the bubbles too thin, the custard starts to melt through eventually – so blow thick bubbles, or serve them quickly. I prefer the latter.)
Although we later learned that they shape their bubbles by coating balloons with caramel and then popping and removing the balloons once the sugar hardens, we decided to blow ours, because the photo reminded me of glass-blowing and I thought it might work. It did.
If you can imagine the two of us dancing around the kitchen for a couple of hours, whirling like mad, burning our fingers, wrecking tubes that were too narrow, and ending up with every available surface covered in ragged bubbles and strands of unintentionally pulled sugar, well, then, you've got a pretty good idea of what the learning process was like.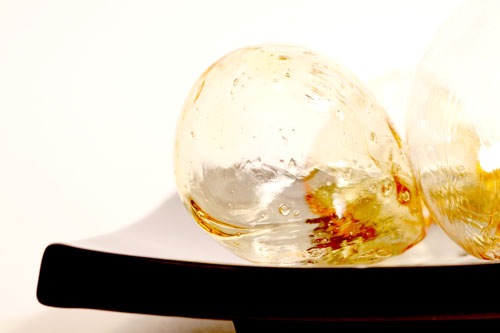 Cardamom Meyer Lemon Créme Brûlée Bubbles
Make the custard (recipe below). Let it chill. Make the bubbles (recipe below). Pipe custard into bubbles. Don't bother with piping tips; just cut a very small hole in the corner of a ziplock bag, or something like that. Very, very small.
If your bubbles are so perfectly blown that they do not have any holes in them, heat up the tip of a knife with a kitchen torch or gas stove and use that to carefully melt a hole in each bubble through which you can pipe the custard.
Cardamom Meyer Lemon Custard
2 C heavy cream
1 C milk
2 vanilla beans, split and scraped
Zest from 2 meyer lemons
6 green cardamom pods
6 large egg yolks
1/2 C granulated sugar
Heat the heavy cream, milk, and spices in a small, heavy-bottomed saucepan over medium heat. Bring to a simmer and steep until strongly flavored.
Beat the yolks and sugar together until pale yellow. Pour about 1/2 C of the cream mixture into the egg mixture and beat to incorporate, then slowly pour the rest in while you keep on beating.
Preheat the oven to 350º.
Strain the custard base into a set of small ramekins, and place the ramekins in a high-walled baking or roasting pan lined with a small dish towel that covers the bottom (but not the sides). Pour enough hot water into the pan to come up half way on the sides of the ramekins. Loosely cover the pan with aluminum foil. Bake on the middle rack for about 30 minutes, rotating the pan halfway through.
The custards are done when they are slightly jiggly in the middle, but not very. Remove them from the pan and cool on a wire rack to room temperature before covering and refrigerating for at least a few hours.
Caramelized Sugar Bubbles
3 C sugar
1 1/2 C water
2 tsp cream of tartar
You'll need a few special tools for this – some aluminum (or any other metal, really) tubes, maybe 12-18″ or so long, about 1/4-1/2″ in diameter. These are easy to find at Pearl Paint, or whatever your nearest arts & crafts supply store may be. Also, a kitchen torch and a knife.
Mix all ingredients in a heavy-bottomed saucepan. Have an ice water bath (in a bowl large enough to contain the bottom of the pot) ready nearby. Heat the pot slowly until the caramel reaches a nice gold color, not too dark, then remove the pot from the heat and dip the bottom into the ice water bath to stop it from cooking further.
Wait until the caramel cools a bit. You want it thick enough so that you can gather up a ball of it at the end of your metal tube, and touch it a bit with your fingers when necessary, but not so thick that you will be unable to blow it out. I end up reheating it as it cools too much, and waiting when it is too hot, trying to catch moments where it is at the perfect consistency.
The idea is to gently blow bubbles of sugar through the tube, patching holes with your fingers as they form, or just cradling the bubble until it cools and hardens. Blow softly. Be patient. It takes a while to get the knack of it. When things are going particularly well, I shape them best by dancing, whirling with tube and sugar kept buoyant by my breath around the kitchen letting gravity do the work for me, letting the sugar flow into the shape I wanted without ever touching it at all.
The kitchen torch and the knife come in handy when trying to clean out any sugar hardened in the tube in between bubbles.
If you won't be serving them right away, store them in a covered container lined with parchment paper, with a small dish or pile of salt in there to absorb the moisture.