Nutmeg Chipotle Tuiles with Chocolate Mousse
This is my entry The Spice is Right VII: Seasons of Love. If you would like to join in, please do! Today is the last day to post entries for this month's challenge, which is all about family spice mixes.
One of the flavor bases Dave and I have been using a lot since we moved in together this past April is the combination of nutmeg and chipotle. They are both such warm, comfortable spices, with the sweeter nutmeg hitting you first and the chipotle melting through afterwards, raising the heat just a notch and adding that touch of smokiness.
Here we combined that blend of nutmeg and chipotle in crisp, addictive tuiles, and served them with a dark chocolate mousse.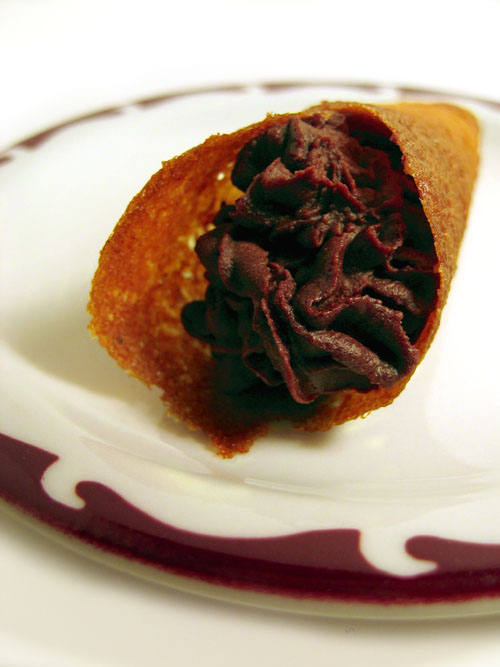 Nutmeg is known to cause hallucinations when ingested in large quantities. (You can get away with eating a whole batch of these cookies yourself, though, and that's what matters.) Perhaps our constant use of nutmeg and chipotle means that our love is both hallucinatory and hot.
The mousse is actually Dave's standard recipe. It always turns out amazing, and everyone loves it. Even he admits that he can no longer order chocolate mousse in restaurants, because it is never as good as what he can make at home. But every time he makes it, I have to listen to him complain about its imperfections and his own inadequacy in mousse-making. I finally calmed him down this time by promising to beat the egg whites for him from now on. It's a small price to pay, and it's why we work so well together in the kitchen.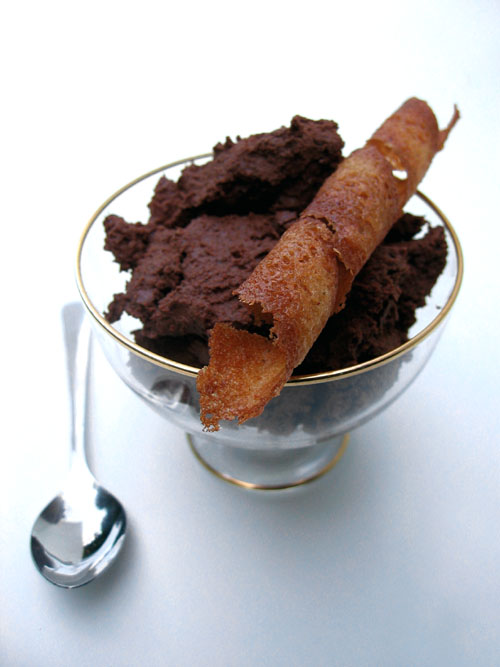 Nutmeg Chipotle Tuiles
3/4 C granulated sugar
3 large egg whites
1/2 C butter (melted and cooled to room temperature)
1/3 C all-purpose flour
1 tsp vanilla extract
3/4 tsp ground nutmeg
1/4 tsp ground chipotle
Whisk the egg whites and sugar together, trying not to beat too much air in. Whisk in the butter. Add the flour, vanilla, nutmeg, and chipotle and again whisk just until combined. Chill in the fridge at least 4 hours before using, and up to two weeks.
Preheat your oven to 350º.
Put a Silpat or something of the sort (parchment paper can work, but it is wrinkly and non-ideal) on a baking sheet that will stay firm and flat in the oven (some of ours have a tendency to warp, so we are very careful which we use for this recipe).
Using a spoon, spread the batter as thinly as possible on the baking sheet in circles of whatever size you like. The batter is actually fairly thick when it comes out of the fridge, so this may take a few tries to perfect. I find that dropping a chunk of batter on the sheet and then using the back of the spoon in small circular motions to cream it before truly starting to spread it works very well.
Don't bake too many at the time, as you have to act quickly once they come out of the oven.
Bake until golden brown, 7-10 minutes.
If you do not have asbestos hands, put on a pair of gloves before the tuiles come out of the oven. Have a spatula ready so that you can start working it under your first cookie immediately after they come out. You need to shape them very quickly while they are still hot. Once they cool, which happens faster than you'd think, they become crisp and crack to pieces instead of being soft and moldable.
You can use just about anything to mold them into myriad shapes – try twisting them around the handle of a wooden spoon, or draping them over something small to create a bowl, or cutting the baked cookies into strips and playing with those – there are so many possibilities!
I found that I had better luck piping the mousse into the rolled up tuiles right after making it and before letting it set. Your mileage may vary. Try to serve the tuiles as soon after baking as you can, and certainly the same day, as they do tend to lose their crispiness after a while.
Note: Make sure to cool off your baking sheet before each batch, or else your cookie batter will melt as you try to spread it.
Chocolate Mousse
1 1/2 lbs semi-sweet chocolate (we tend to use Scharfenberger's 70%)
1/2 C freshly brewed coffee
1/2 C booze (cassis, amaretto, whatever you please)
1 C heavy cream
1/4 C sugar
4 egg yolks
8 egg whites
1 pinch salt
Melt the chocolate over a double boiler. Stir in the coffee and [booze]. Stir in the egg yolks.
Whip the cream, gradually adding the sugar, until stiff.
Beat the egg whites with the salt until you obtain stiff peaks.
Fold the egg whites into the whipped cream. Stir 1/3 of the resulting mixture into the chocolate, then fold the rest of the whipped cream mixture in.
Refrigerate until set, which should take about 2 hours.