Baked Rummy Plantains with Cinnamon Gelato
Plantains, o platanos, which I fell in love with in the form of sweet fried maduros years ago. Plantains, which look like large bananas, but hide a secretly unsweetened center until they blacken and transform into something marvelous. From the black, squishy, grotesque exterior of a fully ripe plantain emerges an ingredient you cannot find unless you wait until that moment to bring it to life.
Emerson wrote that there are only ten minutes in the life of a pear when it is perfect to eat. Plantains transform over their lives from one ingredient to another, each entirely different from the last, but I am only interested in them in that one perfect moment just before they mold and rot in the end.
The problem with serving hot dishes with cold ice cream or gelato, of course, is that the gelato tends to melt away so quickly, until it is nothing more than a wisp of cinnamon cream and drizzled honey coating the plate.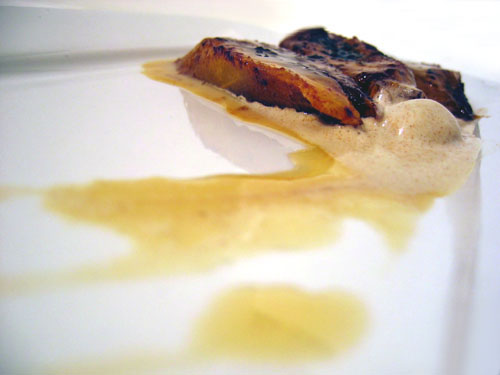 Baked Rummy Plantains
Butter or oil for the pan
3 plantains (black, soft, ripe!)
1/2 C granulated sugar
2 tbsp dark brown sugar
2 tsp cinnamon (or more to taste)
2 tbsp dark rum
2 tbsp lemon juice
2 tbsp unsalted butter (cut into small pieces)
Preheat your oven to 375º.
Butter (or oil) an 8″x8″ baking dish. Peel the plantains and slice them at an angle into about 1/2″ thick slices. Layer the slices into the baking dish. Sprinkle on all the other ingredients.
Bake until tender, golden, and done. This should take about 30-40 minutes. If your plantains are not ripe enough to begin with, it will never quite work out, so do be patient while waiting for them to ripen before bothering to make this dish.
Cinnamon Gelato
1 1/2 C whole milk
1 1/2 C evaporated milk
1/2 C granulated sugar
1/8 C rum
1 tsp vanilla extract
4 large egg yolks
pinch salt
2 tbsp cinnamon (or to taste)
Prepare an ice water bath and a metal bowl that can fit into it.
Bring the milk, evaporated milk, rum, vanilla extract, and about half of sugar to a simmer in a heavy saucepan, stirring until sugar is dissolved.
Beat the yolks, remaining sugar, salt, and cinnamon together until thick and pale. Add the milk mixture in slowly while whisking or beating. Return the entire mixture to the saucepan and cook over medium low heat, stirring constantly, until it reaches about 160°.
Pour the mix through a sieve into the metal bowl in the ice water bath. Once it reaches room temperature, transfer it to the fridge to cool further. Then send it through your ice cream machine as usual.