Lime Syllabub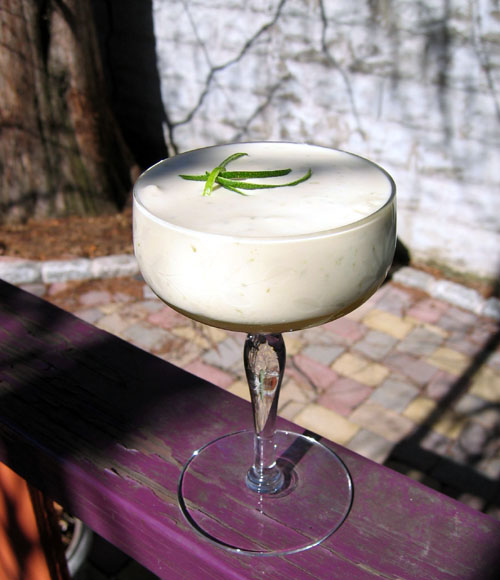 "I'm not stupid, you know."
"Quit bragging."
"Stop being rude."
"When was the last time you read a book? The truth now. And picture books don't count – I mean something with print in it."
Buttercup walked away from him. "There're other things to read than print," she said, "and the Princess of Hammersmith is displeased with you and is thinking seriously of going home." With no more words, she whirled into his arms then, saying, "Oh, Westley, I didn't mean that, I didn't, I didn't, not a single syllabub of it."
Now Westley knew that she meant to say "not a single syllable of it," because a syllabub was something you ate, with cream and wine mixed in together to form the base. But he also knew an apology when he heard one. So he held her very close, and shut his loving eyes, and only whispered, "I knew it was false, believe me, every single syllabub."
– S. Morgenstern, The Princess Bride
(from the good parts version, edited by William Goldman)

The theme for Sugar High Friday #17 is dairy, and to satisfy the Morgenstern fans out there, I'm using it as an excuse to post my recipe for a lime syllabub. Somewhere between a dessert and a drink, this syllabub separates into two layers when chilled which mix together in your mouth if you slurp them up properly, and it tastes like an alcoholic key lime pie.
Lime Syllabub
1/2 C sherry
3 tbsp brandy
Juice and zest from 2 limes
1/2 C sugar
1 C heavy cream
Additional lime zest for garnish
Mix the sherry, sugar, lime juice, lime zest, and 1 tbsp brandy in a bowl and let steep for about an hour. Begin to beat the mixture, gradually adding the cream as you go. When the mixture thickens and begins to form soft peaks, beat in the remaining 2 tbsp brandy. Pour into glasses and chill. Garnish with additional lime zest.
In case you're curious, I used Bristol Cream sherry and brandy from an ancient bottle that claims to be Armenian brandy imported from the U.S.S.R.
"This is the Deep South dessert that is supposed to start Southern beaux and belles on their drunken downfall, since it is so mild that children are allowed to have it, thus acquiring a taste for the flavor of all liquors. The idea is silly, and the syllabub is delicious. The moral damage is negligible."
– Marjorie Kinnan Rawlings, Cross Creek Cookery (as quoted in Classic Home Desserts
by Richard Sax)