Jerk Chicken and Jerk Corn Chowder
I'm feeling very justified in my lifelong Depression-era housewife mentality lately, I must say. Times are rough for everyone, and it feels like they're just getting worse. Good thing I've been doing home canning and jam-making for years, not to mention saving bacon grease in a can in my freezer and freezing chicken carcasses every time we roast a chicken to turn into stock. I do it partially because it's fun, and partially because I feel guilty for being wasteful otherwise.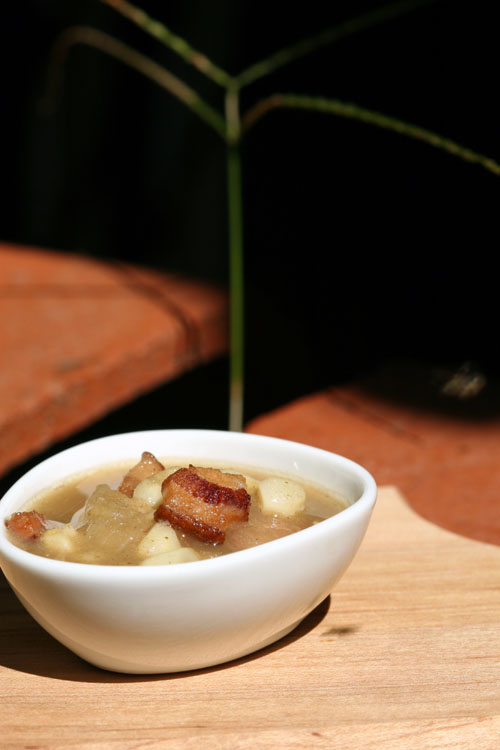 This set of recipes and photos is actually from late summer. We had a large crowd come over for dinner one night, and we bought about twice as much chicken as we needed to feed them all. It was a simple matter to put together this fantastic jerk seasoning sauce and braise the chicken in it to feed the crowd, and everyone loved it.
When our guests left, we looked at the leftover jerk chicken and decided to break it down into useful components immediately. We put on gloves and shredded the meat off the bone, freezing it in single-serving ziplock bags for later packed lunches. We put the skin and bones in the freezer, and the next day we simmered them down to create a pot of fragrant jerk chicken stock, which we strained and froze as well.
Once amazing fresh local corn started coming in at the greenmarkets, we mostly got into the habit of grilling it or putting it under the broiler until the husk blackened, and then eating it plain. Sometimes I add a bit of lime juice, salt, and chipotle to perk it up, but only with less spectacular corn, really. The good stuff would be wasted with that sort of dilution of flavor, at least for the first few weeks it's available each summer.
Point being, once I sated my corn urges to the point where I was willing to eat it gussied up, we started thinking about chowder, and remembered the jerk chicken stock waiting in our freezer. A perfect solution! And so jerk corn chowder was born, to my great delight.
Both of these meals were wonderfully tasty, comfort food, and very much dishes I intend to make again.
Archives
2007: Almond Buttermilk Biscuits with Sour Cherry Compote, Butterscotch, and Candied Pickled Ginger
2006: Dave's Autumn Rice


Jerk Chicken
2 chickens (3-4 lbs. each), cut into quarters
1 C jerk mix (recipe below)
Preheat your oven to 350 F.
Slather the jerk mix all over the chicken and put it into a baking dish. Cover the baking dish with tinfoil and crimp around the edges to seal tightly.
Leave in the oven for about an hour or two, or until tender and delicious.
Save the bones/skin/&c for stock when serving the meat.
Jerk Mix
(adapted from The Soul of a New Cuisine: A Discovery of the Foods and Flavors of Africa by Marcus Samuelsson)
2 tbsp olive oil
6 garlic cloves, minced
1 tbsp ground allspice
1 tsp ground cinnamon
1 1/2 tsp ground cayenne, or to taste
2 tbsp brown sugar
1 tsp ground black pepper
1 tbsp dried thyme
1 tsp salt
1 tsp ground ginger
4 scallions, green parts only, sliced into thin rounds
1/3 C freshly squeezed lime juice
1/2 C red wine vinegar
Heat the oil in a pan until it shimmers. Add the garlic and saute until it just starts to get golden.
Stir in the allspice, cinnamon, cayenne, and brown sugar and cook, stirring constantly, until the sugar melts and the mixture starts to clump together.
Remove from heat and let cool slightly.
Transfer it to a blender with all the rest of the ingredients and blend until smooth.
(Makes about 1 C.)
Jerk Corn Chowder
(adapted from 50 Chowders by Jasper White)
4 oz. bacon, cut into 1/3″ dice
2 tbsp unsalted butter
6 C jerk chicken stock (recipe below) (or 4 C stock and 2 C heavy cream)
2 large onions, peeled and cut into 3/4″ dice
3 C fresh corn kernels (from approximately 3 large ears of fresh corn)
2 lbs potatoes, cut into bite-sized chunks
Salt, cayenne, and freshly ground pepper to taste
Put the bacon pieces in your chowder pot and render them over medium-low heat, until they have released their liquid fat and begun to crisp. You want to keep the heat fairly low to keep from burning the fat.
Pour off all but 1 tbsp fat (retain the bacon!). (Save your poured off bacon grease in a can in the freezer. It is really nice to have around.)
Add the butter and onions. Saute, stirring occasionally, until the onions are softened and only just barely starting to get lightly golden.
Add the potatoes, corn, and 4 C jerk chicken stock. Bring to a boil, cover, and cook until the potatoes are soft on the outside but still somewhat firm on the inside. Smash a bunch of the potatoes (smashing all of them is nice, even) against the side of the pot to thicken the chowder.
Remove the pot from the heat.
Stir in the extra 2 C jerk chicken stock (or heavy cream, if you prefer). Season to taste with salt, cayenne, and freshly ground pepper.
If you have the time, let the chowder cool to room temperature and then reheat it gently before eating, in order to give the flavors a chance to meld together more fully.
Jerk Chicken Stock
Put those jerk chicken remnants in a pot. Cover with water. Simmer until delicious, about 4-7 hours. Don't let it come to a boil! When it's tasty, strain and boil down to intensify the flavor if necessary. Leave in the fridge overnight to let the fat solidify, and defat in the morning. You can freeze it until needed.