Pickled Garlic Seeds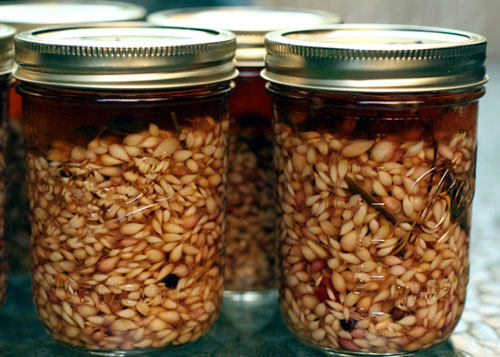 After garlic scape season is over, garlic flowers are ready, full of garlic seeds. You don't usually see these at the greenmarkets unless you ask a kind farmer to bring them in for you, but if you do, they are just wonderful, a rare treat.
The garlic flowers are bursting with seeds like tiny cloves of garlic, packed all around the surface of the spherical flower. When you get them home, it takes some work to pull the seeds off the flowers, but you can pickle and can them and enjoy the tiny intense bursts of flavor for the rest of the year.
We pickled our garlic seeds earlier in the summer, back when there were garlic seeds to be found. My partner, Dave, went to the farmer at the greenmarket and asked for garlic seeds. The farmer laughed at him and told him that garlic grows from garlic cloves, not from seeds! Well, we knew this already, and Dave was prepared for this line of argument.
"But my friend said you'd sell them to me so I can pickle them!" he said, or something like that (I wasn't there). Oh, oh, the seeds in the flowers, sure, the farmer said he could have them for us the next week.
The next week, I went back. By then we'd probably convinced our farmer that we were some sort of collective, a secret organization bent on getting garlic seeds at any cost and sending over a new person each time to try to pry them from his grasp. He had forgotten them at home, he told me. Try again next week.
The next week, Dave went back, and finally, triumph! He bought garlic flowers full of seeds like sunflowers, and took them home to pry them out and prepare them for the pickling.
We've been serving these a lot at the restaurant (where I really ought to take more photos to share with you guys), and people always ask us for the recipe. Here it is! And if you stop by my apartment, I will you feed these to you by the spoonful, because I have an absurd number of jars of them filling up the jam shelves in my living room. (Yes, my living room has jam shelves. Yes, really. It's a life I'm proud to live.)
And just as a brief aside: So, Dave and I were recently in California, where we stopped by Le Sanctuaire. It was a great showroom, with many interesting things to see and taste. We came home with a canister of pumpkin seed puree that has been inspiring us ever since. And I was thrilled that the charming gentleman running the showroom, Ben, had heard of this humble blog. (Hi, Ben! It was a pleasure to meet you during our trip!)
Archives
2007: Horchata
2006: Lamb Tagine with Pearl Onions, Dates, and Sugar Snap Peas


Pickled Garlic Seeds
(from Baconbit of Greenmarket Report, who adapted it from The Joy of Pickling by Linda Ziedrich)
1/2 C white wine vinegar
1/2 C white wine
1 small dried chile pepper
1 small thyme sprig
1 small rosemary sprig
1 small bay leaf
10 black peppercorns
2 tsp sugar
1/2 tsp pickling salt (a finely ground salt with no additives; you can use an equivalent amount by weight of kosher salt instead)
1 C garlic seeds
Put all of the ingredients except for the garlic seeds into a large non-reactive saucepan. Bring to a boil, then gently boil for 5 minutes. Add the garlic seeds, then return to a boil, cover the pan, and remove from heat.
Let stand at room temperature for 24 hours.
Sterilize canning jars in boiling water, then set out to dry a bit.
Bring the pickle to a boil again, then divide the seeds and the liquid among your sterile jars.
Process the jars in boiling water for at least 15 minutes, then set them out on the counter. As the jars cool, you can hear the lids pop down as the vacuum seal is formed in each. Store them in a cool dark space, and wait at least a week before tasting.