Lemon Sage Sausage and Hungarianish Sausage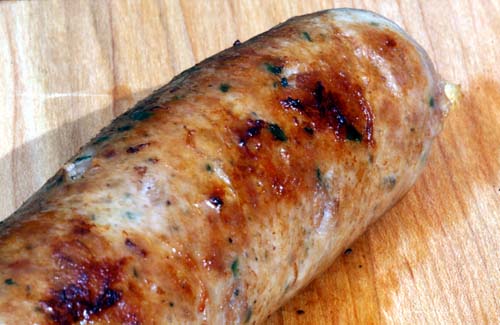 I don't have much time to write out these recipes for you today, what with planning for my occasional restaurant, Jack, taking up all of my non-lawyering time right now. We are busy making sure we have all the plates we need, picking up linens, and working out some menus for months down the line. It an incredibly exciting process for us!
So, yes, it takes up a lot of time. As Prince Humperdinck said in the movie version of the immortal S. Morgenstern's The Princess Bride, "I've got my country's 500th anniversary to plan, my wedding to arrange, my wife to murder and Guilder to frame for it; I'm swamped."
We are having a soft opening for which no reservations are available this weekend, and I'll try to take a few photos then. Our real opening night is April 12th, and I've been really, really enjoying watching the reservations start to come in.
Life sure isn't boring.
So, rather than leave you entirely high and dry, here are a few photos and recipes for some sausages I made earlier this winter. Dave's holiday present to me this year was a meat grinder and a sausage stuffer, and these two sausage batches were made in my first bout of playing with my presents.
If you need some advice on the mechanics of making sausage, you can check out Charcuterie by Michael Ruhlman, or just google around.
The basic idea is: cut up your meat and fat into small cubes and marinate with your seasonings in the fridge over night. Put your grinder, bowl, and meat into the freezer until quite cold. Grind into a cold bowl sitting inside a larger bowl filled with ice. Again, get the meat and your stand mixer bowl very cold, then beat the ground meat with cold liquid to bind and emulsify it. Cook sample patties to taste the flavoring until you're happy. Stuff into casings or use as patties, whichever you prefer.
The recipes below have my notes on both the seasoning proportions that we actually used, and the way we'd make them differently in the future.

Lemon Sage Sausage
2.42 lbs pork shoulder butt and fat
19 g kosher salt
3 g black pepper, coarsely ground
20 g fresh sage, minced (we used 14, it wasn't enough)
9 g garlic, minced
17 g ginger, grated
1 lemon worth of zest (we used 2, it was a little too much)
Hungarianish Sausage
2.42 lbs pork shoulder butt and fat
10 g edes paprika
10 g csipos paprika
2 g black pepper, coarsely ground
41 g roasted garlic (roasted in lard)
19 g kosher salt
3 g allspice (we used 4, it was just a little too much)