Tea Cookies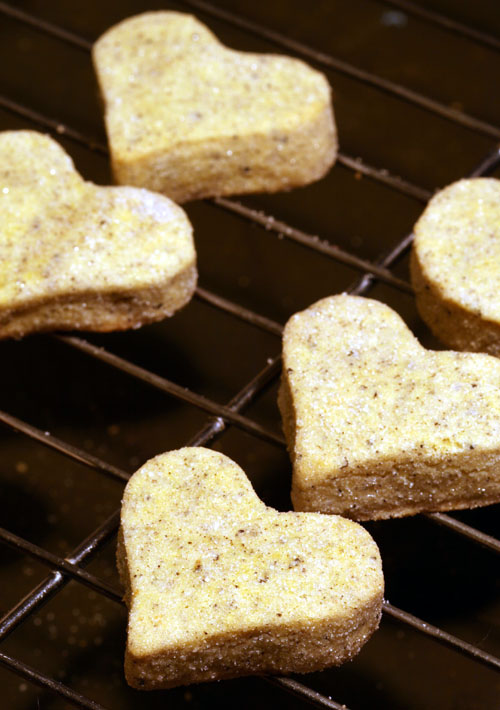 A friend and I recently went to check out Amai Tea & Bake House, because we like having tea together and I am big on supporting food bloggers in their endeavors (Amai is run by the blogger behind Lovescool).
We really enjoyed the tea sweets there, and when I got home I found Amai's recipe for matcha (green tea) cookies.
Green tea is nice and all, but in my pantry I have some wonderful oolongs, not to mention my coconut vanilla tea, herbal masala chai, strawberry rose tea, homemade peach mace vanilla tea, and more. I wanted to create a variety of tea cookies with all of my wonderful teas!
So I ground up some oolong tea to a powder in a clean coffee grinder, and gave it a go.
Perfect.
The tea flavor is subtle but unmistakably present. The cookies have the slight crumbliness of butter cookies, but are more tender than most, and are particularly satisfying when eaten with a sip of tea between each bite.
I posted this to Gothamist for Valentine's Day, and I'm reposting it here to make another confession: Dave and I have actually started wedding planning. If you've been reading this blog long enough, you may remember how he proposed last April. Since then, New York courts have begun recognizing out-of-state same-sex marriages. We talked to a lot of people and between ourselves about it and came to the decision that that, especially right after a couple of women we know decided to get married, was good enough for us.
We're thinking August 2009, so we have plenty of time to plan.
Funny how that feels like such a short schedule!

Tea Cookies
(adapted with very minor variations from Lovescool/Amai Tea & Bake House)
3/4 C (2.25 oz) confectioners sugar
5 oz unsalted butter (5/8 C, or 1 and 1/4 stick), straight from the fridge, cut into 1 tbsp slices
1 3/4 C (8.5 oz) all-purpose flour
3 large egg yolks (save the whites to make tuiles or macarons)
1 1/2 tbsp ground tea of your choosing
1 C granulated sugar (for coating)
Preheat the oven to 350 F. Line two baking sheets with parchment paper.
In a stand mixer using the paddle attachment, mix the sugar and ground tea together. Add the butter and continue mixing until smooth and pale.
Add the flour and mix until well combined.
Add the egg yolks and mix just until the eggs are fully incorporated and a mass forms.
Form the dough into a disk and chill in the refrigerator until firm – the original recipe calls for at least 30 minutes, but with my fridge I prefer to let dough chill for at least a couple of hours before rolling it out.
Which is what you're doing next, of course – rolling it out. To about 1/2″ thick, which will feel surprisingly thick to those of us more used to rolling out pie crusts.
Preheat the oven to 350 F.
Cut the dough with small cookie cutters of whatever shape you like. Mine were about 1″ diameter.
Toss each cut cookie in a bowl of granulated sugar to coat.
Place the sugar-coated cookies onto a parchment lined baking sheets, about 1″ apart. Bake for 12-15 minutes, rotating from top to bottom and back to front halfway through the baking time. When they are done, they will be slightly golden around the edges.