Kumquat Cake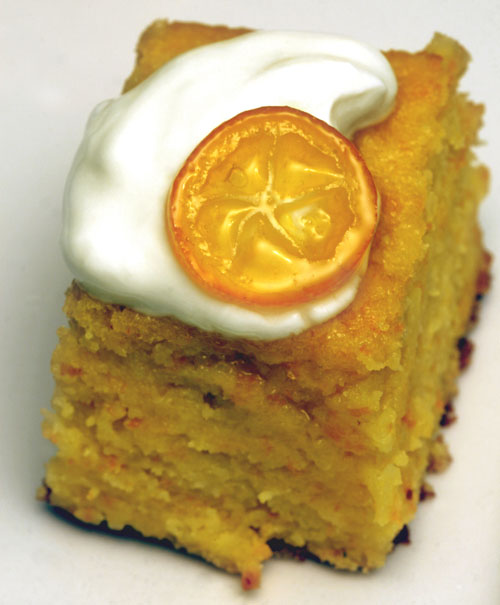 This cake is obscenely rich; it is more of a custard or pudding than a cake, almost. It is so moist that it may seem undercooked until you remember just how many eggs and pureed kumquats you poured into that wet batter to make it.
It started out as a recipe for orange cake, but I prefer kumquats, and I suspect it would work just fine with whatever citrus you happen to prefer.
Dave thinks it's a bit too sweet, but that's why I suggest pairing it with sour cream (or perhaps sour cream ice cream) – the tartness balances everything out perfectly.
I would serve small squares of this as part of the mignardise at the end of a decadent meal.

Kumquat Cake
(adapted from a recipe that started with Claudia Roden, adapted further by Stephanie Alexander, and adapted still further by Kuidaore, before being adapted yet again by me)
1 lb kumquats
6 large eggs
250 g almond meal
250 g granulated or superfine sugar
1 tsp baking powder
Barely cover the kumquats with water in a medium-sized pot. Bring to a boil, then lower the heat and simmer, covered, for 1 hour.
Drain and allow the kumquats to cool to where you can handle them. Open them up and discard the seeds. They will be so soft you will easily be able to do this by hand.
Preheat your oven to 375 F.
Prepare a 9″ square cake pan by buttering and flouring it.
In a blender, puree the kumquats with the eggs.
In a large bowl, stir together the dry ingredients. Gradually add the kumquat/egg puree, whisking to combine.
Scrape the batter into the prepared cake pan and bake for 45-60 minutes, or until the top is golden and springs back when touched and the cake has pulled away from the sides of the pan a bit.
Cool completely in the cake pan before inverting to remove and inverting again to set right side up. Store, tightly wrapped, in the fridge.
Cut into smaller squares (because it is very rich) and serve with sour cream and candied kumquats or kumquat marmalade to garnish.