Forbidden Rice with Persimmon and Coconut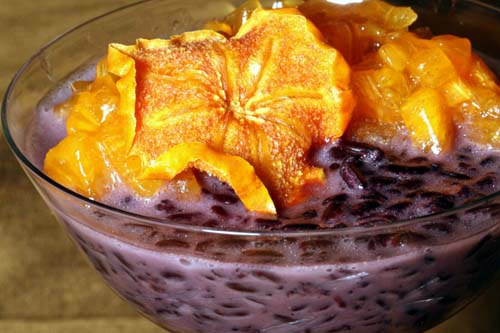 Before I explain this dish, I just want to announce that the 2007 Food Blog Awards are now open for nominations. You can nominate your favorite food blogs in various different categories here. Hurry up, because nominations end in just a few days, on Wednesday, December 5th!
Because I am proud of my work, I just might suggest that you nominate my humble blog for food blog of the year, best food blog – writing, or best food blog – photography.
And if I were completely shameless, I would specifically recommend nominating my Kitchenaid Upgrade post, my Cucumber Salad in Two Grandmotherly Styles post, my Beginning Charcuterie: Bacon post, my Apples Doused in Cardamom Wine post, or any other particular post that you like for best food blog – post. And I am completely shameless! It is one of the necessary virtues of being a trial lawyer. There is absolutely no way to get up in front of a jury unless you are willing to embarrass yourself for the sake of your client.
That said, please don't forget to also nominate the other amazing food blogs out there that are completely worthy of your praise and attention. I've already done that part myself.
Enough about contests; let's talk about the food!
This is another dish inspired by The Orphan's Tales: In the Cities of Coin and Spice
by Catherynne M. Valente. In her layered maze of story within story, I found persimmons and coconuts to play with.
The Basilisk lived in "his little courtyard full of persimmons and coconuts", in the spice city of Ajanabh. A girl who was somehow safe from his gaze, who refused to turn to stone, befriended him and visited him often. She cared for him, hurt and alone, after his tongue was torn out by the companions of a dead Star, who needed it to tell their tale the only way they could.
Another girl, who looked just like his friend, came to visit one day, and the Basilisk was surprised and dismayed when she turned to stone before his eyes.
"Holding his grief before him like a lamp, the Basilisk left the city of Ajanabh. And holding his rage before him like a pike, he stared hard at everything he passed: fence-posts, stables, windmills. Basil-fronds. Garlic-patches. Red-pepper fields and black-pepper fields, the green peppers and the pink, and the cinnamon-groves, and the coriander-fields, and the saffron-fields, and the cumin-farms, the salt flats with their crystals like hard, cutting snow, the mustard-plants, the paprika-bushes, and the vanilla beans, thin and dark on the vine. "
After the Basilisk left, I like to think that his friend remained, and that she gathered persimmons and coconuts from the courtyard where she used to visit him. I like to think that she brought them home to to make desserts like this Forbidden Rice with Persimmon and Coconut to eat in remembrance of the Basilisk.
Forbidden rice is a purplish black rice, supposedly called that because in ancient China it was forbidden to be eaten by anyone other than the Emperor. I don't know if the tale is true, but since this is a dessert grown from a story to begin with, another story should fit in just fine. And more importantly, forbidden rice is a very tasty indeed.
This is my second entry to my food blog event ending on December 17th, A Recipe From the Crease of My Right Eye. Better hurry up and get your entries in soon! Remember, there is a prize at the end for the winning entry!
And while I'm at it, I am submitting this entry to Novel Food as well.

Forbidden Rice with Persimmon and Coconut
1 C forbidden rice
2 C water
2 tbsp sugar
1 14 oz. can coconut milk
1 tsp cardamom
Salt to taste
Fuyu persimmons
Cook the rice with 1 tbsp sugar and salt to taste, until tender.
Simmer the coconut milk with the remaining 1 tbsp sugar, cardamom, and salt to taste. Stir it into the rice.
Peel and dice your persimmons. Serve with the rice.
If you like, serve with dried persimmons slices. These are made by slicing fuyu persimmons thin on a mandoline, laying them out on a baking sheet, and cooking them in a low oven (about 140 F) for a few hours, flipping them occasionally.