Cubed Radish Kimchi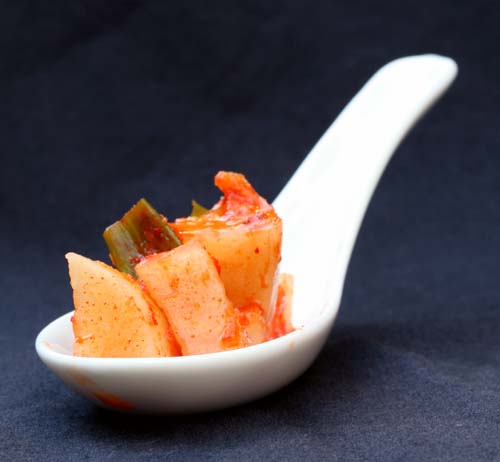 For my first attempt at making this sweet, salty, spicy, satisfyingly crisp bite o' banchan, I followed this recipe from one of my favorite Korean food blogs, Evil Jungle Prince. Unfortunately, it turned out to be way too fishy for me. (This may have something to do with my misreading the measurement for anchovy sauce as calling for tablespoons instead of teaspoons, but never mind that, and let us never speak of it again.)
Full of despair, I turned to the fine folks at the eGullet kimchi thread for advice. Properly comforted that I could safely reduce the amount of anchovy sauce without suffering fatal intestinal maelstroms as a result, I decided to try again.
I adjusted the proportions a bit more to my liking, and stole a few ideas from this other recipe (also from Evil Jungle Prince) as well.
Finally – success!
Korean food is my latest obsession. I ordered a cookbook, bookmarked a few blogs, and am going wild in the kitchen. I found a grocery store near my apartment that sells fabulously tasty homemade gochujang (red pepper paste) in little tupperware-ish tubs, and picked up everything else I need Han Ah Reum in K-town.
It's a good thing Dave loves the cubed radish kimchi, and can tolerate my filling the fridge with things like tiny spicy salty sweet itsy bitsy anchovies for the munching.

Cubed Radish Kimchi
1 daikon radish (weighing approximately 1 1/2 lbs.)
Water and kosher salt for brining
2 tsp Korean fine chili pepper powder
1/2 bulb of garlic, finely grated
1 1/2″ fresh ginger, finely grated
4 tsp Korean anchovy sauce
1 1/2 tsp sugar
3 tsp Korean coarse chili pepper flakes
4 scallions, green parts only, sliced into 1″ lengths
1 1/2 tsp rice flour
3/8 C water
Fill a big non-reactive bowl (this means no metal!) with cool water and stir in a handful of kosher salt. Peel the radish and cut into 1″ cubes. Put the radish cubes into the brine and leave them there to soak for 20 minutes.
Make rice porridge by mixing the rice flour into the 3/8 C water and bringing it to a boil, at which point it will thicken, then removing it from the heat and setting it aside to cool to room temperature.
Sterilize a jar. (Yeah, this seems kinda silly, but all the recipes I've read suggest it, so why not?)
When the radish cubes are done brining, rinse them off with cool water. Mix in the Korean fine chili pepper powder.
Mix all the other ingredients into a paste, then mix them into the radish cubes, making sure that all the cubes are basically smeared all over with this stuff. This is tons of fun to do with bare hands.
Put the whole mess into a jar and screw on the lid. Leave it out at room temperature for about 40 hours, at which point it is ready for eating and should be kept in the fridge henceforth.