Lamb Tagine with Apricots, Dates, and Yams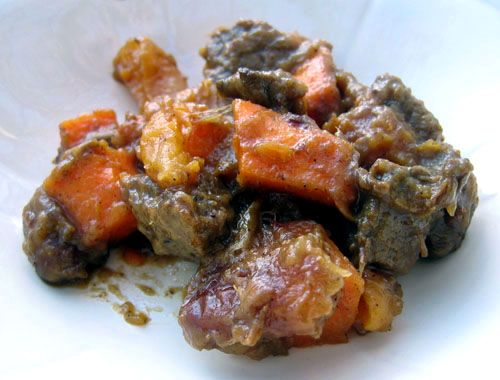 To be honest, what I've actually been searching for is a good recipe for Sali Boti, a Parsi lamb and apricot dish that I have every time I go to this wonderful Indian restaurant in Cambridge. I haven't really seen any trustworthy recipes for it, though. If anyone reading this knows of any, I'd be very grateful if you'd send it my way.
In the meantime, lamb and apricots are good together in so many different ways. This is my adaptation of a Faye Levy recipe for lamb tagine. I've been sick lately, and with no one around to make me yet another pot of Mom's Chicken Soup, this was the perfect comfort food for me to make for myself after I got sent home sick from work yesterday.

Lamb Tagine with Apricots, Dates, and Yams
2 1/2 lbs. lamb shoulder chops (or 2 lbs. boneless lamb)
Vegetable oil
2 medium red onions (chopped)
1/8 tsp saffron threads
salt and pepper to taste
1 1/2 C water (and more, later on)
1 lb. orange-fleshed sweet potatoes or yams (peeled and cut into approximately 3/4″ cubes)
1 tsp ground ginger
1/4 tsp ground cinnamon
nutmeg to taste
3/4 C dried Turkish apricots (sliced in half)
1 C pitted dates
1 tbsp honey
Cut the meat off the bone, if any, and remove all excess fat. This can be a bit of a hassle with lamb, but it's worth the effort. Cut the meat into approximately 1″ cubes.
Heat about 1 tbsp oil in a heavy stew pot, and brown the meat and bones lightly on all sides over medium-high heat. This may work best in several batches, so you can keep them in a single layer throughout the browning process. Once browned, remove from the pan with a slotted spoon.
Add more oil if necessary, then throw in the onions. Once the onions are thoroughly browned (but not burned), return the meat, bones, and any juices to the pot. Add saffron, salt, pepper, and water. Mix well, and bring to a boil, then lower the heat and let it simmer until the lamb is tender, about an hour and fifteen minutes. The water won't cover the lamb entirely, so check in on it and stir it around from time to time.
After an hour and fifteen minutes or so, remove the meat and bones from the pot and put them aside on a clean plate, leaving the onions behind. Remove any meat attached to the bones and keep it with the rest of meat, discarding the bones.
Add the yams or sweet potatoes to the pot and simmer, covered, for about ten minutes, stirring occasionally. Then add the ginger, cinnamon, nutmeg, apricots, and dates, and simmer, covered, for another ten or fifteen minutes or so, still stirring from time to time, until the fruit and yams are soft. Depending on the proportions of your stew pot, you may need to add more water during this process if too much of it has simmered away.
Once all is tender, stir in the honey, then return the meat to the pot and simmer, covered, for about five minutes. Adjust the seasoning to taste, and you're done. I put quite a lot of black pepper in this, because it goes so well with all the sweetness of the fruits and yams.