Apricot Fruit Leather Ravioli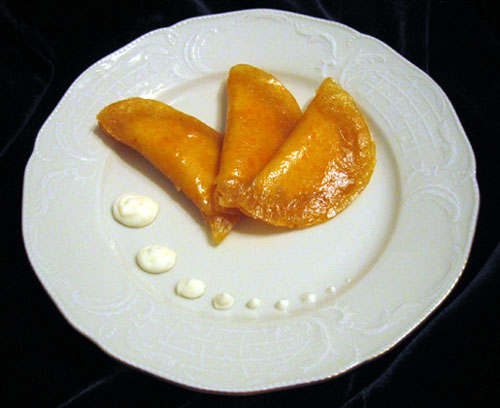 Weekend Cookbook Challenge #3: Foods in Shades of Orange is my first food blog event (as a participant rather than as an onlooker, that is). In honor of the occasion, I turned immediately to my newest cookbook, Jacques Torres's Dessert Circus at Home
.

Fruit Leather Ravioli
1 C fruit puree (I used apricots)
Juice of 1/2 lemon, strained
1 C plus 2 tbsp granulated sugar
1/4 C (1.5 oz) powdered pectin
1 C mascarpone cheese
Grated zest of 1/2 lemon
3 tbsp granulated sugar
Combine the fruit puree, lemon juice, pectin, and 1 C plus 2 tbsp sugar in a heavy-bottomed saucepan and place over medium-high heat. Whisk well as the mixture comes to a boil. Continue to whisk constantly as you allow the mixture to boil for 3 minutes – and I do mean constantly, as my goop wanted very badly to scald to the bottom of the pot.
After it has boiled for 3 minutes, remove the goop from the heat and pour it onto a 16″ x 24″ sheet of parchment paper that has been lightly oiled with vegetable oil. The recipe says to spread the goop with an offset spatula, but I found the goop far too cohesive for that method to work. Instead, try placing another sheet of parchment paper atop the goop, oiled side down. Use a rolling pin to spread the goop between the layers of parchment paper until it is spread evenly and so thin as to be almost transparent. It should be very easy to peel off the top sheet at that point, as the fruit leather cools so quickly that it should be almost ready by the time you're finished rolling it out. (At this point, you can just cut it into strips if you prefer plain fruit leather to ravioli, or if you have an aversion to cheese.)
In a separate bowl, combine the mascarpone, zest, and 3 tbsp sugar to create the filling.
Jacques Torres used a 3″ fluted cutter to cut circles from the cooled fruit leather. Lacking his toolset, I cut out my circles by tracing the rim of a glass with a paring knife. Place about 1/2 tsp of filling in the center of each circle. Fold each circle in half, and press the edges together firmly to seal. They are unlikely to actually join completely, but they will hold well enough for you to eat, play with, or even gently juggle your ravioli without spilling the filling.