Duck Hearts with Cinnamon Juniper Sauce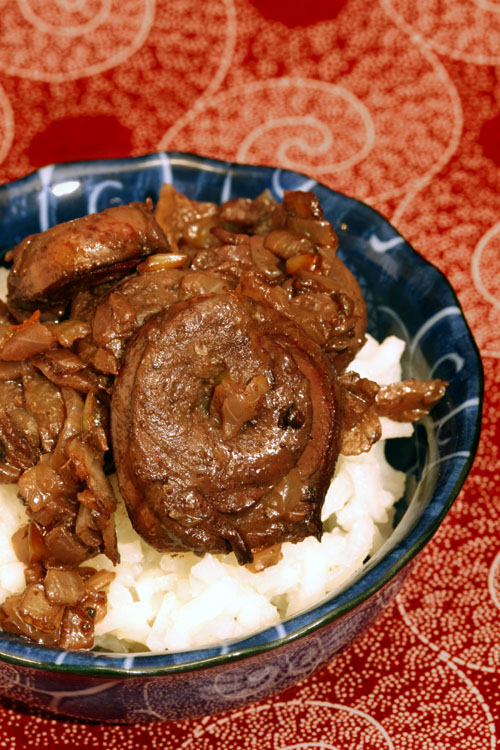 Let me explain. No, it is too much! Let me sum up.
I got it into my head that I had to pick up some duck hearts. These things happen.
It turns out that you can buy duck hearts at Ottomanelli's Meat Market (285 Bleecker Street, NY, NY) in 5 pound bags for something like $3-4/pound. Just order a bag and in a few days you will have infinite duck hearts to play with. Thaw them just enough to separate them into ziplock bags with maybe 1/2 pound duck hearts in each, label the bags with the date and contents, and freeze whatever you don't cook immediately.
This way, if you want a quick snack of duck hearts in the middle of the week, you can pull out a small portion of them to play with! You never know when the duck heart munchies may hit. INFINITE DUCK HEARTS!
I get these urges sometimes, you see.
My partner, Dave, said that he's going to have to put a single duck heart in with my lunch every day from now until eternity, and if I'm good he'll even cook them first.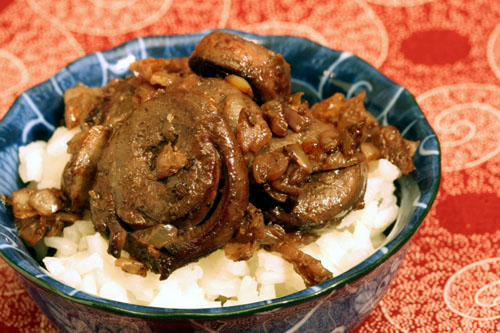 If you're in a rush, you can quickly saute the hearts in butter and make a simple pan sauce with chicken stock and balsamic vinegar to pour over them. This takes just a few minutes to throw together and is splendid with toasted english muffins.
But on nights when you have the time to cook something a little more complex, it takes just a few minutes longer to throw together these duck hearts with cinnamon juniper sauce instead. Cinnamon juniper duck is an old Hungarian specialty, according to George Lang, who provided the inspiration (but not the recipe) for this dish.
Don't worry. This dish was so good, it's even four-year-old-picky-eater approved.
My grandmother informs me that we did it all wrong, and we should have browned onions in the pan before adding the duck hearts and done it up as a paprikas.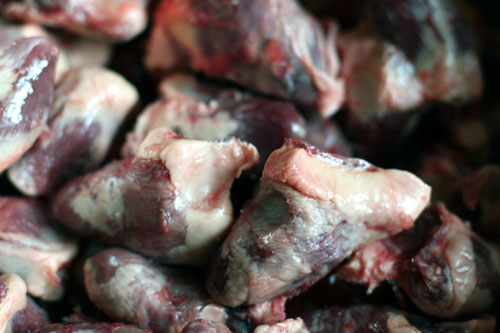 Anyways, duck hearts.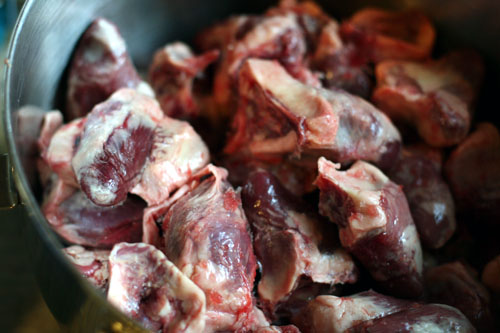 Archives
2007: Turkish-Style Burdock Root
2006: Basil Sorbet with Lemon Olive Oil


Duck Hearts with Cinnamon Juniper Sauce
1/2 lb. duck hearts
1 small onion, finely chopped
1/4 tsp ground cinnamon
10 juniper berries, finely crushed
1/2 C red wine
Salt and freshly ground black pepper to taste
Butter
Thaw the duck hearts. Reserve the blood that melts when they thaw. Remove the fatty tops and cut the hearts into 1/4″ thick rounds.
Brown the onion in butter until it is golden, but not too dark. Add the duck hearts and spices and saute briefly. Remove duck hearts from the pan and set aside when they are almost cooked through.
Add the wine to the pan and boil until slightly syrupy.
Reduce the heat and stir in the duck blood to thicken. Add the hearts back to the pan and simmer, stirring, until heated and cooked through. Adjust the seasoning to taste.