Roundup: Sugar High Friday #41: Sweet Gifts
The theme for this month's Sugar High Friday was Sugar High Friday #41: Sweet Gifts, where I asked you to tell me about a dessert you made (or want to make) for somebody else.
What an amazing group of people you are, to have created such a huge collection of sweet gifts for your friends, family, and loved ones all over the world! I've enjoyed reading all of your stories and imagining the tastiness of your desserts. Thank you so much for participating and sharing your stories with me here.
Next month's Sugar High Friday will be hosted by La Petite Boulangette, and the theme is Asian Sweet Invasion.

Big Blondes
Elle from Feeding My Enthusiasms
Elle made these cookies from a recipe from Jill O'Connor's Sticky, Chewy, Messy, Gooey as a gift to her mother, to thank her for the gift of the cookbook. Way to go positive reinforcement!




Honey Bears for my Honey Bear
Kiriel from The Papillon Pantry
These bears were sent as a care package to a far-off friend, to help him eat properly even without Kiriel there to cook for him each day.




Rum Baba
Cakelaw from Laws of the Kitchen
Cakelaw made her very first Rum Baba to thank her friend for her generosity in inviting her to stay at her house in a beachside suburb for the Labour Day long weekend. I'm sure her friend loved receiving her favorite dessert as a thank you gift.




Flourless Peanut Butter Cookies
Mrs. W from Mrs. W's Kitchen
Mrs. W's dear friend is going through a hard time with her granddaughter, and Mrs. W is trying her best to help by being there to listen, to share driving and lunches, and to bake cookies to help her friend through this difficult time.


Nega Maluca
Sarah from What Smells So Good?
Sarah made this cake for her mother's surprise birthday party. What a treat!




Whole Grain Biscotti
Smita from Smita Serves You Right
Smita gives these biscotti out for all sorts of occasions – Bon Voyage! Good luck before an exam! Welcome back (to work!)! Happy Friday! And they've always gone over well.




Chocolate Peanut Butter Truffle Cupcakes
Holly from PheMOMenon
Holly made these cupcakes for her four-year-old, Aidan, as a special treat that won't trigger his allergic reaction to too much dairy. What a lucky kid, to have such a sweet Mom!




Chilled Pandan Soufflé
Rachel from R khooks
A sweet gift for Mr Soul & City and Mr Bump.




Espresso Chocolate Chunk Cookies
Amy from Eggs on Sunday
Amy made these cookies for her family, who all love chocolate and coffee combined as much as she does.




Nutella Crêpes w/Strawberry & Banana
Mike from Mike's Table
When Mike was younger, he and his brother tried to make crepes for their mother on Mother's Day, and, well, I'm sure she appreciated the gesture, at least. But now that he is older and more skilled in the kitchen, he was able to get over the anxiety of that memory to make these beautiful crepes for his wife.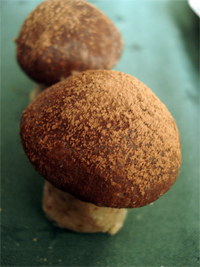 Marzipan Mushrooms
Zlamushka from Zlamushka's Spicy Kitchen
Every year, Zlamushka's mother grumbles, revolts, and eventually whips up a beautiful batch of these candies for her devoted husband.




White Chocolate Irish Cream Marbled Loaf
Ngoc from Professional Bakist
This was a belated birthday cake for Ngoc's father, who usually gets his own birthday cake but somehow failed to do so this year.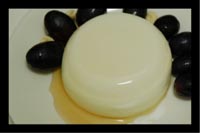 Vanilla Panna Cotta
My kitchen treats
This was made from V, who got a sore mouth from spicy food and deserved something sweet afterwards.




Bring Back the McDonald's Shamrock Shake
Susan from Food Blogga
When Susan had her wisdom teeth removed and couldn't eat solid food, her father waited on line to bring her a McDonald's Shamrock Shake after work every day for a week. 15 years later, she recreated the shake as a thank you for her father.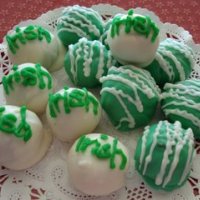 Mint Oreo Truffles
Steph from Cooking In An Apron
Steph made these truffles as a St. Patrick's Day present for her Irish boss and the rest of the work clan.




Time for Key Lime
Saralynn from Happy Baker
Key lime pie is Saralynn's husband's favorite, and his eyes light up when she makes it for him. It's her way of thanking him for being a wonderful helpmeet to her.




Orange Date Cake
Miri from Peppermill
Miri used orange extract she received as a gift from another food blogger to create this cake for her orange blossom, her almost-three-year-old daughter.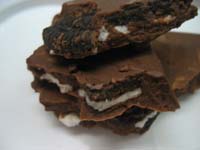 Milk Chocolate Cookies and Cream Bark and a White Chocolate Fruit and Nut Bark
Nicole from Sweet Tooth
I'm not sure who Nicole gave these candies to, but whoever the lucky recipient was, I'm sure they enjoyed them very much.




Chocolate Pound Cake
Sihan from Walking in the Rain
Sihan's babe never had much of a sweet tooth, but he sure loved this cake!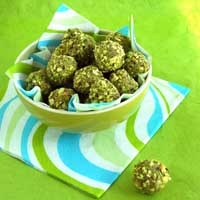 Matcha White Chocolate Pralines with Pistachios
Meeta from What's For Lunch, Honey?
Meeta made these treats for her lucky local friends right before she left to visit her family for Easter, so they wouldn't forget her while she was gone. I wish I lived in her neighborhood!




Pralines
Ann from Redacted Recipes
Ann's grandmother used to make pralines each Christmas for her father, who liked to greedily hoard them for himself. The last time Ann made some for him, she had to make an extra batch for her children, because he still wouldn't share. The man likes his pralines. And I'm sure he loves his daughter, who just made yet another batch to put in the mail for him.




Carrot Cake Cupcakes
Alanna from A Veggie Venture
While working on this post, Alanna discovered the unthinkable – she's lost her carrot cake recipe. The one her grandmother made for her 17th birthday, which she made for her grandmother's 80th birthday, and which she made year after year to celebrate her grandmother's birthday after her death. She's searched and searched, but she just can't find. And while I'm sure the carrot cake recipe she's shared with us is wonderful too, I'm so sorry to hear that her grandmother's recipe is lost, and so grateful to hear the tale of the love and cake they shared together.




Lemon Sandwich Cookies
Katie from Salt and Chocolate
Katie made these cookies for her father's birthday.




Chai Latte Cupcakes
Joanna Mong from Salute to Sanity
These cupcakes were a gift for a worthy cause, baked for a bake sale that was being held to raise money for the university's library.




Swirly Macarons With Bittersweet Chocolate Ganache
Helen from Tartelette
This is my favorite entry, because not only did Helen make these gorgeous macarons for her friend's wedding, she even agreed to mail me some to eat! Thank you, Helen!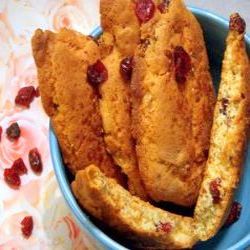 Eggless Cranberry-Walnut Scones
Mansi Desai from Fun and Food
Mansi makes these for her husband's breakfast, and she likes knowing that she's serving him something that is not only delicious, but also healthy and nutritious.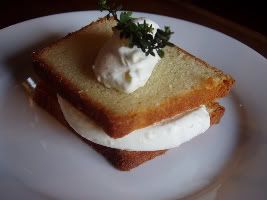 Almond Butter Cake with Lemon Thyme Cream
Brittany from The Pie Lady
Brittany made this cake for her sister, who sounds like an awesome person and a life-long friend (and who declared this cake a mouth-gasm).




Vermicelli Kesari ~ Semiya Kesari!
Srivalli from Cooking 4 all Seasons
Srivalli made this thinking of Amma, who used to make it specially for her.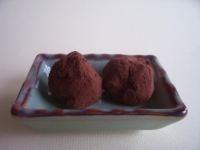 Orange Truffles
Linda from make life sweeter!
Linda made these truffles for two lucky girlfriends of hers.




Colomba Pasquale with Candied Peel
Louise from Knit1Bake2
Louise shares this recipe with a wonderful story about a girl who saved herself from the king by baking this cake for him.




Dark Chocolate Toffee Cookies
Mary Lynn Allen from Sweet Mary
Mary Lynn made these cookies for another worthy cause, a bake sale to raise money for the March of Dimes (a/k/a the March for Babies).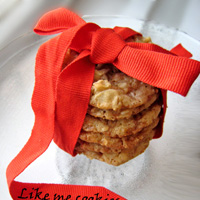 Coconut Toffee Almond Crunch Cookies and Cinnamon Raisin Bread
Brilynn from Jumbo Empanadas
Bri, this is only the easiest thing ever because you're all such loving, giving people to begin with! And I love the cookie system idea: "Everything seems so much better when you're handing someone an amazing cookie. Arrive late to work? One cookie. Need to take the weekend off? Two cookies. Want your co-workers to be nice to your? Three cookies. Handing in a resignation letter when three other people have just quit and the store is uber-busy? Tin of cookies. See, if everyone worked on the cookie system, life would be so much easier."




Oatmeal Chocolate Chip Cookies
Zarah Maria Food & Thoughts
Zarah made these cookies for the amazing woman and new mother who has been her best friend since they were 12 years old.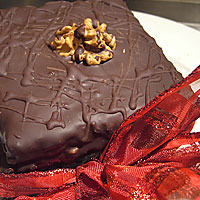 White Russian Cake
Chriesi from Almond Corner
When Chriesi surprised her mother with this cake, her mother said it was even better than her own. Now, that's a compliment!




Milk Chocolate and Passion Fruit Truffles
Aran from Cannelle Et Vanille
Aran made these beautiful truffles to welcome her friend Deena's new baby into the world. Congratulations, Deena! And with such a sweet welcome, I'm sure that child will have the sweetest of lives. Welcome to the world, welcome to chocolate, welcome to life!




Vegan Caramel Candy
Maggie from Dog Hill Kitchen
These vegan caramel's were Maggie's son's first taste of caramel candy!




Chocolate & Cornflakes nests with Mini Eggs, Chocolate Eggs, Milky Truffles, and Easter Egg Cookies
Isabel Cholaky from Isa's Cooking
Isa made overflowing easter baskets for her cousins this year.




Lavender Shortbread and Nutella Cupcakes
Yoko from Virtual Frolic
Yoko made these when she visited her friend Sarah, and lucky her, Sarah made her dinner that evening as well.




Quadruple Chocolate Cookies
ashleystravel from Introducing Ashley
This was a gift for her husband right before he left for a month-long work trip to the Netherlands.




Chocolate Walnut Brownies
Deeba from Passionate About Baking…& beyond
Deeba made these for a dear old lady who lives near her, who is 78 years old and still makes sure to greet her at the children's bus stop each morning.




Carrot Muffins
Nora from Pipe Dream Pastries
Nora's family is obsessed with carrot cake, so she made these somewhat healthier than usual carrot muffins for them.




Peach Kuchen
Kate from A Way To Eat
Kate delivers extra kuchens to her lucky friends around Easter.




Peanut Manjar Balls
Gretchen Noelle Jones from Canela & Comino
Gretchen loves hospitality, and she brought these treats to the new wife a pastor she's worked with for several months when she was invited over for lunch.




Irish Cream Truffles and Grand Marnier Truffles
Mandy from Fresh From The Oven
Monica made these for OTC's colleagues, in thanks for the wonderful farewell party they threw for them.




Coconut Cupcakes
Mimi from Mimi on the Move
Mimi made these cupcakes for her friend SV, who declared that they were as good as the cupcakes from Magnolia bakery! (What, not better?)




Vegan Animal Crackers
Maybelle's Mom from Feeding Maybelle
Maybelle's Mom made these cookies for her as a low-sugar Easter treat.




Caramel Cake with Caramel Cream Cheese Frosting
Ashley from eat me, delicious
Ashley made this cake for her sister-in-law's birthday.




Banana Jam
Joy from Joy Of Desserts
Joy has wonderful childhood memories of receiving homemade jams from her aunt, and now she shares with us one of the jams she makes herself.




A Rainbow of Fortune Cookies
Michelle Safirstein from Big Black Dogs
Michelle even typed up her own personalized messages to put into these fortune cookies for her nieces. Too cute!




Move Over Bugs Bunny, This Carrot Is For Cake!
Danielle Deskins from Colin's Mom
Danielle made this cake for two co-workers of hers who share the same birthday, but have very different tastes in sweets.




Grandpa BB's Red Hot Baked Apples
Lisa from Confessions of an Apron Queen
Lisa's theory is that her Grandpa baked these red hot apples for her Grandma, and that's why she fell in love with him and they had 50 wonderful years together.