Kumquat Braised Oxtail with Chestnut Stracci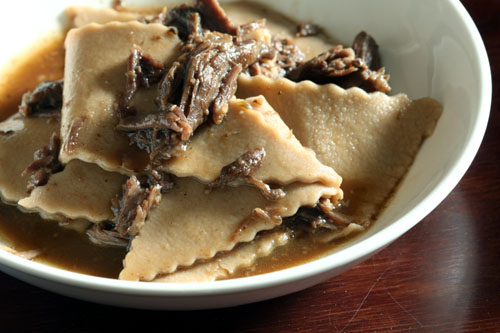 This is one of our great successes this winter.
Oxtail braised with sweet spices, tons of kumquats, low and slow until the sauce is richly fragrant, smooth and thick. The meat is shredded off the bone into the strained sauce with balsamic vinegar stirred in for added complexity, and served with homemade chestnut flour pasta, which adds some toothsome sweetness to balance the intense meatiness of the oxtail.
The almost floral fragrance of the kumquats elevates this dish into something extraordinary. It reminds me of the way preserved lemon adds a sublime quality to Moroccan tagines, though it was actually thrown together from what we happened to notice while shopping at the food co-op, not inspired by any particular recipe or cuisine.
The chestnut stracci recipe is more traditionally based, adapted from an Italian recipe for irregular scraps of pasta made with chestnut flour and eggs. I'm told that "stracci" means "rags," which is what those pasta scraps are meant to look like. I threw them together after reading through a few recipes and finding the proportions that ultimately worked best for me.
Go on, give this a try before kumquats are gone for the year!

Kumquat Braised Oxtail
3 lbs oxtail, in 2″ (or so) thick slices
Oil for browning
1/2 lb kumquats, sliced into 1/4″ thick rounds and deseeded (don't stress too much, since they'll be strained out and discarded in the end)
6 shallots, thinly sliced
1 tsp ground clove
1/4 tsp ground nutmeg
1 tbsp grated fresh ginger
1 tsp balsamic vinegar
1 1/2 C water
Brown the oxtail in little oil. Stir in all other ingredients except for the balsamic vinegar. Pressure cook at high pressure for 50 minutes (or braise over low heat for probably about 4 hours or so, or until tender).
Remove the oxtail and let cool a bit.
In the meantime, strain the sauce and stir in the balsamic. You can reduce it at this point if necessary, but it really should be thick and lusciously flavorful enough already with no need for reduction.
Pull the meat off the bones, saving the fat, bone, and connective tissue in the freezer for the next time you make beef stock.
Shred the meat and stir it into the sauce.
Refrigerate overnight, and skim off the solidified fat the next day before serving.
Chestnut Stracci
3 C all-purpose flour
1 C chestnut flour
6 eggs
1-2 tbsp olive oil
A big pinch of salt
Knead the ingredients together until they form a dough, then continue kneading for about 10 minutes until the dough is smooth and elastic.
Let it rest at room temperature wrapped in plastic wrap for 15-30 minutes.
Roll it out as thin as you can – at least as thin as a dime! It will double in thickness when it cooks.
Let it rest another 15 minutes before cutting it into irregular shapes with a fluted pastry wheel.
Cook in salted boiling water for just a few minutes, then strain and serve with the sauce.