Cranberry Quince Sorbet
Quinces are in season, and this year I mean to take advantage of it. Quinces are like apples' upscale cousins – tarter, rosier, more gussied up and elegant. While the apple is available right here, right now, the quince must be cooked for a long time until its pale flesh turns a ruddy hue and its lush sweetness is fully evoked. The apple wants you without hesitation, but the quince must be seduced.
When picking a quince, choose the yellowest-skinned fruit you can find. The green fuzzy ones aren't quite ripe yet – not that you could tell by tasting, since even a ripe quince is too tart to eat raw.
To make this sorbet, we had to simmer the quince down with sugar, water, and vanilla for a long while before adding in the cranberry, running it through a food mill, then chilling and churning the resulting puree. It's a slow process, but it doesn't require much supervision, and the final product is well worth the wait.
This is a sorbet, a real vegan treat, but when you put it in your mouth, it's hard to believe that it contains no dairy. The creaminess is astounding.
In fact, this is my entry for Vegan Ventures, where Tasty Palettes is gathering up vegan recipes this month.
(Not being vegan myself, though, I prefer to eat it with a rich, decadent, dairy-laden chocolate sauce drizzled on top.)
I think Dave plans on making a savory, warm version of this as a cranberry quince sauce for Thanksgiving.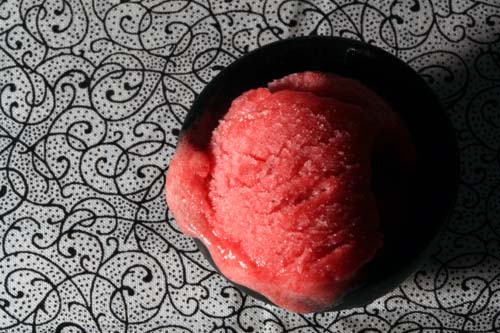 Cranberry Quince Sorbet
3 quinces
3/4 C sugar
1 vanilla bean
1 C water
4 oz cranberries
1/4 C Nocino della Cristina walnut liquor (or any other liquor you may prefer)
Peel and core the quince, and cut into chunks. Put it in a small saucepan. Slice the vanilla bean in half lengthwise and scrape the seeds into the pot, then throw the rest of the bean in after them. Add the water and sugar, stir everything together, and simmer until the quinces turn a lovely pink. Add the cranberries, and continue to simmer until they become tender.
Push the whole mess of stuff through a food mill or fine mesh strainer. Chill in your fridge, then stir in the liquor.
Churn according to your ice cream maker's regular instructions.